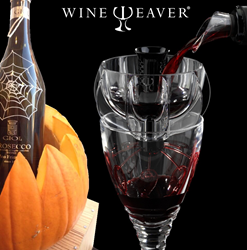 Halloween is an especially great time for being creative with what and how you serve your guests.
(PRWEB) October 31, 2013
WineWeaver, a top wine aerator and accessories company, love to entertain and Halloween is one of the occasions best suited for entertaining on the calendar.
Whilst children may love getting dressed up at this time of year and going out trick or treating, the essence for any adult Halloween lover is without a doubt the party. Whether it's entertaining at home with a devilish dinner party or holding a spooky-themed costume party for friends and family, WineWeaver offers some last-minute Halloween party ideas to ensure any Halloween party gets off to a good start this season.
Patricia Robertson, co-founder of WineWeaver, shared, "Halloween is just such an exciting time of year. The colors of fall are in full display and there is plenty of seasonal produce that is perfect for entertaining". She continued, "Halloween is an especially great time for being creative with what and how you serve your guests, with pumpkins and other gourds having top versatility".
As WineWeaver suggests in their Chef & Your Kitchen Blog online, an easy and effective Halloween party idea is to serve soup from within a pumpkin itself. Soup served in a pumpkin is ideal for creating that 'wow factor' with dinner guests this Fall, and is suited to not only Halloween entertaining, but to Thanksgiving also.
Alternatively, for Halloween, WineWeaver suggest serving up a seasonal soup, such as butternut squash or tomato and basil. Then, before serving the soup to guests, place a spoonful of soured cream to the center and use a cocktail stick to draw out the cream into a spider's web for spooky effect.
Larger pumpkins are often hollowed out and used as decorative Jack o'lanterns with tealights for Halloween; however, WineWeaver suggests using a hollowed out pumpkin as both a practical and decorative way of serving up food and drink.
As discussed on their website, WineWeaver suggest utilising a Pumpkin as a Wine Chiller or ice bucket for rose and white wines or as a Halloween Punchbowl .
Ms Robertson remarks, "Our team suggest brewing up a creepy concoction to serve to unsuspecting guests, such as the strong and tasty 'Halloween Horror Blood Punch' recipe that we have shared on our blog."
WineWeaver's Halloween punch is a quick and easy red wine based cocktail recipe with floating 'eyeballs' made from melon.
Ms Robertson explained, "We aim to make entertaining easier by offering quick and easy recipes and party ideas that are sure to be a treat, as well as offering great wine accessories for playing the perfect host at home."
Look for more creative recipe and entertaining ideas from WineWeaver.com as they continue to grow their collection of seasonal and year-round tips with fresh takes on traditional ideas. They can also be found on Twitter @WineWeaver, which tweets about Wine News and events as well as food and wine pairings.
About WineWeaver:
WineWeaver are a small, committed and dynamic team who are truly passionate in their aim to raise the awareness of the advantages of enjoying aerated wine. The site shares wine tastings and news in the Sommelier's Corner Blog as well as recipes and entertaining tips.
The passion of the founding partners led them to design a new style of wine aerator to incorporate functionality and a visual design which is both sophisticated and stylish.
The WineWeaver® wine aerator blends unparalleled performance with a state-of-the-art design to deliver perfectly aerated wine direct to your wine glass or decanter (the bottle to glass principle).
# # #
Contact: Patricia Robertson |Email: contact[at]wineweaver[dot]com | Tel: 00-44-203-427-5928
Head Office: 2.07 Second Floor, 83 Victoria Street, London, SW1H 0HW, United Kingdom |Website: http://www.wineweaver.com/