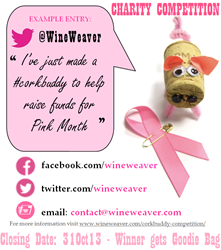 Our small team are delighted to be raising funds for such a worthy cause this month.
(PRWEB) October 21, 2013
October is Pink Month, a month that is internationally recognised as being dedicated to raising the awareness of Breast Cancer.
WineWeaver, a leading wine aerator and gifts company, are determined to show their support during Pink Month this year. With this in mind, the WineWeaver team have launched a Charity Competition to help raise funds for the Breast Cancer Research Foundation.
The month is about raising funds and boosting the profiles of the charities that support sufferers of breast cancer and undertake research into a cure for the disease.
Ms Robertson, founding partner of WineWeaver expressed, "It is great to be able to support the BCRF and their mission for prevention and finding a cure for this disease. This charity provides valuable global research into the disease and preventative measures and our small team are delighted to be raising funds for such a worthy cause this October."
Entrants to the competition are asked to create a 'cork buddy' from a used wine cork and upload a photo of their creation to Facebook, Twitter, or by sending an email to the team at WineWeaver. The more entries received by the closing date of 31st October, the larger WineWeaver's donation to the charity from their October online sales. In addition, the winner of the competition will receive a WineWeaver Goodie Bag.
This is not the first time that the online gifts company have been involved in Charity Fundraising. WineWeaver have previously supported a number of other cancer charities, donating to the MacMillan Cancer Support Charity and the Teenage Cancer Trust Charity.
In addition, earlier this month, a Hollywood Fancy Dress Charity Event was held in Birmingham to help raise money for the cancer care charity, Marie Curie. WineWeaver were delighted to help promote the event in their WineWeaver Blog and online.
WineWeaver, along with other businesses, had been contacted by event organizer Tammy Morris to assist with the fundraising for this worthy cause.
Tammy, who sadly lost her father four years ago to cancer, decided to organize an event with the aim of giving back to the Marie Curie Hospice in Solihull, which provided vital support to her father and family at such a difficult time.
Tracey Finnegan, a Marie Curie Community Fundraiser, advised that, "Marie Curie Cancer Care provides high quality nursing, totally free, to give people with terminal cancer and other illnesses the choice of dying at home, supported by their families".
The event raised its charitable donations through tickets sold, cash donations, and raffled prizes, to which WineWeaver was proud to contribute. The highly rated wine aerator company donated a hamper which included, amongst other items, one of their highly regarded WineWeaver Wine Aerators.
Ms Morris, event organizer, shared her gratitude with WineWeaver bestowing "a massive thank you for your very generous donation" and, following the "fabulous" success of the evening, later announced that £794.25 had been raised for the charity.
She continued, "The support we received for the event has been amazing, not only from our friends, family and local businesses, but businesses based elsewhere in the country. This kind of support will enable Marie Curie to continue to provide the services and care to others that we were truly grateful for, so thank you."
Upon hearing the fundraising achievement, Ms Robertson expressed WineWeaver's congratulations to the success of the event and explained that "Events like this, while seemingly relatively small, are nevertheless vital in raising the awareness of charities, as well as contributing directly in the form of funds raised."
The organizing of this event was partially made possible via the popular social media platform, Facebook, which had been utilized by Ms Morris to widen her contacts in search of support.
Ms Robertson, informed that "As a small business we are aware of the potential of Social Media as a platform for increasing our business network, however this also highlights the great benefit to the general public in that businesses of all sizes are more accessible and can together become united in support of events and charity drives that they might otherwise know nothing about."
She continued, "The sense of 'local' is expanding. Social Media, such as Facebook and Twitter, is all about community, sharing, and making real human contacts, and the fact that we can use these platforms to help those in need is a huge testament to their power."
To take part in WineWeaver's Breast Cancer Charity Competition, visit their website http://www.wineweaver.com for details. WineWeaver can also be found on Facebook and Twitter @WineWeaver, sharing Wine News and events, information on wine aeration as well as wine tasting notes.
About WineWeaver:
WineWeaver are a small, committed and dynamic team who are truly passionate in their aim to raise the awareness of the advantages of enjoying aerated wine. The site shares wine tastings and news in the Sommelier's Corner Blog.
The passion of the founding partners led them to design a new style of wine aerator to incorporate functionality and a visual design which is both sophisticated and stylish.
The WineWeaver® wine aerator blends unparalleled performance with a state-of-the-art design to deliver perfectly aerated wine direct to your wine glass or decanter (the bottle to glass principle).
# # #
Contact: Patricia Robertson |Email: contact[at]wineweaver[dot]com | Tel: 00-44-203-427-5928
Head Office: 2.07 Second Floor, 83 Victoria Street, London, SW1H 0HW, United Kingdom