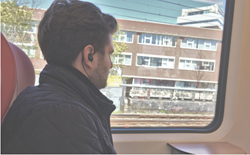 By focusing on the essentials, our earphones are almost half the price of other top name wireless earphone brands
Rotterdam, The Netherlands (PRWEB) May 11, 2016
WING has just launched a 35-day Indiegogo campaign to raise $18,500 in hopes of providing wireless earphones at an affordable price. Countless people wrestle with tangled earphones on a daily basis. Wireless products solve this hassle but are often times grossly overpriced for the average work out needs. With WING, people can enjoy the luxury of wireless earphones without the hefty price tag.
WING earphones are not only less expensive than competitors but superior in performance as well. In a single charge, WING delivers 8 hours of uninterrupted play time, allowing the user to stay active for extended periods of time. The bend-to-fit ear hooks are customizable to each user's ear, and the earphones include six different ear tip sizes to ensure a comfortable fit. Passive noise isolation maximizes the user's experience, and the sound delivers an excellent wide and deep bass without compromising too much treble. Simply connect the device through Bluetooth and complete every workout wirelessly.
"We started our journey over a year ago because of our love for running and passion for music. We love to run to our favourite power songs, but the fact that our earphones constantly got tangled and limited our movements drove us crazy," said Jordy van Osch, WING co-founder. "We discovered that premium wireless earphones are incredibly expensive and simply overpriced. We went on a mission to develop our own premium wireless earphones. By focusing on the essentials, our earphones are almost half the price of other top name wireless earphone brands."
WING Earphones are available for pre-order through Indiegogo until June 6th. Backers can pre-order WING for an Early Bird price of $59, which is 15% off the future retail price. For more information, visit bit.ly/WINGearIGG.
ABOUT WING
WING is on a mission to be a socially responsible brand. In conjunction with International NGO Save the Children, WING will put 7% of future earnings toward projects that aid in improving the lives of children around the world. From an environmental standpoint, WING has seen, first hand, the damage that plastics can do. That's why every WING package comes in 100% recyclable cardboard- no plastic, ever. For more information, visit wingearphones.com.