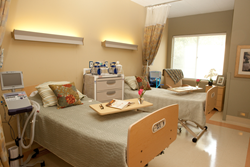 Wingate Healthcare's Ventilator Care Program will provide personalized care to focus on the individual's specific goals to provide the resident with an enhanced quality of life.
East Longmeadow, Massachusetts (PRWEB) September 30, 2014
Named a 'Post Acute Center of Excellence', the Wingate of East Longmeadow facility has officially announced that they will be offering a new Ventilator Program that combines advanced medical technology with supportive, personalized care from highly-specialized staff. This program is one of the only non-hospital options available in the region that offers this type of care. The primary focus of this Ventilator Program is individualized ventilator management, to provide patients with the highest possible quality-of-life.
The facility is employing a variety of medical technologies like the Passy Muir Valve, which will allow residents to speak, swallow and enjoy a host of clinical benefits. Portable oxygen, vacuum and compressed air will be used to facilitate adequate healing by allowing patients freedom and the ability to take advantage of social activities throughout their center. This 24-hour respiratory therapy program is led by a board-certified pulmonologist; several licensed respiratory care practitioners, physical, occupational and speech therapists, and nursing staff who actively encourage increased wellness through patient goals.
Jeffrey Heinze, the Administrator of Wingate at East Longmeadow, provided some exclusive insight about the new program stating, "Many of the residents that we expect to see at Wingate at East Longmeadow have been on ventilators for many months or even years, and most will be classified as 'unable to wean' or have given up hope entirely. However, Wingate Healthcare's Ventilator Care Program will provide personalized care to focus on the individual's specific goals to provide the resident with an enhanced quality of life."
Bryan Rossano, Western Regional Director for Wingate Healthcare added, "The timing of the introduction of the Chronic Ventilator Care Program at Wingate of East Longmeadow is perfect to accommodate the Community's demand for high level clinically complex care within a home-like environment and Wingate's on-going mission to match hospitality and healthcare. The Program will provide an alternative to traditional avenues of long term care by introducing evidenced based care and outcomes through caring and professional staff whose goal it is to match each individual's maximum potential with gracious and comfortable surroundings."
To mark this moment, Wingate Healthcare is holding a celebration event on Thursday, October 23rd at 4:30 – 7:30 PM to officially kick off this new program. The event will take place at 32 Chestnut Street, East Longmeadow, Massachusetts 01028. RSVP's can be made in advance by calling (413) 525-1893.
Owned by Wingate Healthcare, Wingate at East Longmeadow is a 135-bed skilled-nursing facility that provides both short and long-term care following an injury or illness. The community provides a wide range of post-acute care and rehabilitation services, including orthopedic rehabilitation, cardiac rehabilitation, wound care, and Skilled Clinical Services, and is known for its unique 'pavilion suites,' which provide post-acute care in a luxurious setting. The facility is adjacent to the center of town and just minutes from Heritage Park. The locale offers the perfect setting for rehab after hospitalization as well as for family visits, with fine dining and shopping venues close by. Whether visiting for long-term care or short-term rehab, their dedicated, compassionate caregivers welcome new senior residents as if they were family.
Recently, East Longmeadow has been recognized as a 2014 recipient of the Bronze Commitment to Quality Award by the American Health Care Assoc. and National Center for Assisted Living (AHCA/NCAL) for their dedication to improving the lives of residents through quality care.
For media inquiries regarding the new program at the East Longmeadow healthcare facility, individuals are directed to contact Administrator Jeff Heinze directly at (413) 525-1893 or via email at eastlongmeadow(at)wingatehealthcare(dot)com. To learn more about the program or the upcoming celebration, please visit: http://www.wingateateastlongmeadow.com