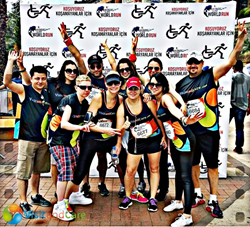 I am proud of our team. We have learned a great deal over the race weekend in Alayna, Turkey. It gave us confidence and signified a magnitude of humility. To run the race together — made it incredibly special.
Chicago, IL (PRWEB) May 27, 2014
VisitandCare.com helped to create a piece of history on May 4th, as the team geared up for the Wings For Life World Run 2014. The pioneering event embraced tens of thousands of runners for a simultaneous race in 32 different countries to benefit spinal cord research.
The goal — to make the world run as one — with over 35,000 individuals of all ages and abilities making a profound commitment to run for those who can't.
Wings for Life is a not-for-profit spinal cord research foundation. The foundation funds world-class scientific research and clinical trials aimed at healing devastating spinal cord injuries.
The driving force behind the foundation are two-time Motocross World Champion, Heinz Kinigadner, and the Founder of Red Bull, Dietrich Mateschitz. In 2003, Kinigadner's son Hannes was involved in a tragic accident that left him tetraplegic.
Stirred by the appalling injury, Kinigadner and Mateschitz turned to leading scientists from across the globe to further tackle earlier discoveries — revealing injured spinal cord nerve cells are capable of regeneration after specific types of treatment.
Quickly recognizing that research into spinal cord injuries was underfunded, Kinigadner and Mateschitz organized the Wings for Life research foundation, which ultimately generated the first-global sporting event of its kind.
It Can Happen to Anyone —
Every year, around the world, between 250,000 and 500,000 individuals suffer a traumatic spinal cord injury, mainly initiated by the true nature of everyday life occurrences — road accidents, falls, work or sports-related injuries, and acts of violence, among other causes.
In some cases, spinal cord injury is a result of a disease or degeneration. The type of disability which occurs after the injury is dependent on the severity and the location of the damaged segment of the spinal cord.
Traumatic injury to the spinal cord can result in neurological impairments, including musculoskeletal (resulting in incomplete or complete paraplegia or tetraplegia), respiratory, urinary, or gastrointestinal.
In the last few years, the Wings for Life foundation has been able to initiate a large number of promising developments. Major approaches currently under development include: reducing secondary damage, axon growth, eliminating growth inhibitors, and cell-based approaches.
Run For Your Life —
Defined as a resounding success in its very first year, the World Run made an overwhelming statement — 164 nations, 34 diverse courses, 32 different countries, in 6 continents and 13 time zones. On the May 4th race, 35,397 runners ran a total of 530,928 kilometers — the astonishing equivalent of one runner making more than 13 laps around the world.
With no set distance or finish line, participants are shadowed by a moving finish line known as the 'catcher car.' Thirty minutes following the start of the race, the car drifted at 9.3mph, then increased its speed every hour to 9.94, 10.56, 12.43 and finally, 21.75mph until it surpassed each runner.
Lemawork Ketema of Ethiopia and Elise Selvikvag Molvik of Norway went the furthest distance in the men's and women's races, running 46.4 miles and 34.04 miles, respectively. Tatyana McFadden, who won the women's wheelchair division at the Boston Marathon, took the same Wings for Life title with 11.3 miles.
"I think we can say this was a very huge success," International Sports Director Colin Jackson stated. "People all over the globe said how much they enjoyed this unique race and can't wait for next year."
VisitandCare.com demonstrated an engaging dedication to personal and professional development. "I am proud of our team. We have learned a great deal over the race weekend in Alayna, Turkey. It gave us confidence and signified a magnitude of humility. To run the race together — made it incredibly special," stated Tolga Umar, CEO and Founder of VisitandCare.com.
VisitandCare.com Race Results from Alayna, Turkey
Fatih Ozturk 7.57 miles (161st) Race No. 6678 Nation - Turkey
Gisel Soriano 5.6 miles (78th) Race No. 6677 Nation - Mexico
Maha Issawi 4 miles (129th) Race No. 6680 Nation - Tunisia
Brandie Umar 3.99 miles (131st) Race No. 6672 Nation - USA
Tolga Umar 3.42 miles (397th) Race No. 6684 Nation - Turkey
Abir Dhahbi (result n/a) Race No. 6683 Nation - Tunisia
The run closely follows VisitandCare.com's record corporate growth in 2013, and a persistent expansion at the start of 2014, firmly underlining its position as a leader in the medical tourism industry. No barrier is too daunting — no detail too insignificant. The team understands the end-result is about maintaining inspiration, and holding on to that sort of clarity and vision that you have.
After raising over $4.1 million, the overall entity of the World Run is not whether effective treatments and cures will be found, but when they will be found — as the Wings For Life foundation developments provide strong hope that a cure is closer than ever.
About VisitandCare.com
VisitandCare.com was created to give individuals worldwide valued direction locating a doctor, obtain free medical treatment quotes, and uncover affordable medical treatments at destinations of their choice. Improving Patients Lives |The company provides access to exclusive doctors and hospitals who specialize in infertility, plastic surgery, cosmetic dentistry, laser eye surgery, orthopedic surgery, hair transplantation, weight loss surgery, heart surgery and cancer care. Patients are matched with devoted multilingual patient facilitators and provided tangible connections to doctors worldwide. Promoting Your Healthcare Brand | For the ultimate connection between the healthcare industry and patients worldwide, the company delivers an unrivaled commitment to create sustained value for medical partners. Contact VisitandCare.com to see if you are eligible to become a partner of the exclusive network.