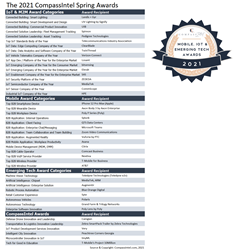 SAN ANTONIO (PRWEB) April 14, 2021
Compass Intelligence is eager and excited to announce the award recipients of the 9th annual CompassIntel.com spring awards to honor the top companies, products, and technology solutions in mobile, IoT, and emerging technology industries. This year we received 120+ nominations coming in from companies, public relations, and corporate communications firms, editors, journalists, analysts, and other colleagues. These awards, excluding the Compass Intelligence selected awards, were voted on by 40+ industry-leading press, editors, journalists, thought leaders, and analysts in early April. A total of 45 awardees are being recognized, including 39 nominated awards in mobile, IoT, and emerging technology, and 6 Compass selected awards. Of the 6 Compass Intelligence submitted awards, those include honors in smart cities, logistics, defense technology, chip innovation, and IoT development leadership.
"This time of the year is so very uplifting as we honor the best of the best in mobile, IoT and emerging technology," states Stephanie Atkinson, CEO & founder of Compass Intelligence. "Honoring companies who put in the hard work, elevate the industry, and provide innovation and leadership is rewarding in so many ways and we congratulate this year's award winners."
The award recipients of the 9th Annual Compass Intelligence Tech Awards are as follows:

Connected Building: Smart Lighting - Landis+Gyr
Connected Building: Smart Development and Design - UV Lighting by Signify
Connected Building: Commercial Product Innovation - UIB
Connected Solution Leadership: Fleet Management Tracking - Spireon
Connected Solution Leadership: Asset Tracking - Pedigree Technologies
Top IoT Standards Body of the Year - Telecommunications Industry Association
IoT Data: Edge Computing Company of the Year - ClearBlade
IoT Data: Data Analytics and Software Company of the Year - TwinThread
IoT Vehicle Telematics Company of the Year - Verizon Connect
IoT App Dev / Platform of the Year for the Enterprise Market - Losant
IoT Emerging Company of the Year for the Consumer Market - bitsensing
IoT Emerging Company of the Year for the Enterprise Market - Elevāt
IoT Enablement Company of the Year for the Enterprise Market - SAS
IoT Security Platform of the Year - ZEDEDA
IoT Semiconductor Company of the Year - MediaTek
IoT Sensor Company of the Year - CommScope
Industrial IoT Company of the Year - HPE
Mobile & Wireless Awards -
Top B2B Smartphone Device - iPhone 12 Pro Max (Apple)
Top B2B Wearable Device - Axon Body 3 by Axon Enterprise
Top B2B Workplace Device - Poly Studio P Series (Poly)
B2B Application: Internal Operations - Splunk
B2B Application: Client Facing - QTS Data Centers
B2B Application: Enterprise Chat/Messaging - Microsoft Teams
B2B Application: Team Collaboration and Team Building - Zoom Video Communications
B2B Application: Augmented Reality - Vuforia by PTC
B2B Mobile Application: Workplace Productivity - Asana
Mobile Device Management - Citrix
Top B2B Cable Operator - Comcast Business
Top B2B VoIP Service Provider - Nextiva
Top B2B Wireless Provider - T-Mobile for Business
Top B2B Wireline Provider - AT&T Business
Machine Vision Technology - Teledyne Technologies (Teledyne e2v)
Artificial Intelligence: Chipset - MediaTek
Artificial Intelligence: Enterprise Solution - Augmentir
Robotic Process Automation - Blue Orange Digital
Retail Customer Experience - Syte
Autonomous Vehicles - Polaris
Autonomous Technology - Grand Farm & Trilogy Networks
Enterprise Software Innovation - Poly Lens by Poly
Compass Intelligence Nominated Awards -
Defense Drone Innovation and Leadership - Camgian
Transportation & Logistics Innovation Leadership - Zebra SmartPack Trailer by Zebra Technologies
IoT Product Development Services Innovation - Very
Intelligent City Innovation - Peachtree Corners Georgia
Microcontroller Innovation in IoT - tinyML
Tech for Good in Education - T-Mobile's Project 10Million
Note: This last group of awards was selected by the Compass Intelligence team, while all others come in from nominations and submissions.
About Compass Intelligence
Founded in 2005, CompassIntel.com is a market analytics and consulting firm specializing in metrics-driven market intelligence and insights for the mobile, IoT, and high-tech industries. Compass Intelligence provides executive insights, market sizing/forecasting and modeling, competitive analysis, strategic consulting, advisory services, trending analysis, and survey research services. Compass Intelligence helps guide strategic business decisions, and support in the success of our clients through delivering content engagement, go to market planning, competitive positioning, and strategic advisory.
Learn More: https://www.compassintelligence.com/awards--honors.html
Note: Brand or product names are trademarks or registered trademarks of their respective holders.