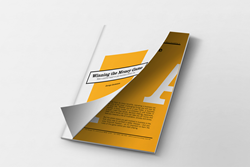 If achieving success is really that easy, then why aren't all businesses rolling in massive profits?
Liverpool, Australia (PRWEB) May 22, 2014
"Winning the Money Game" is the title of the newly launched eBook by George Germanos, Managing Director and Principal Accountant at Alliance Accounting, that offers critical information and tips on how to achieve success in business.
In this book, Mr. Germanos outlines a few key – and simple – steps that can make a positive impact on a business's bottom line and enable businessmen win the money game. As Mr. Germanos explains, "If achieving success is really that easy, then why aren't all businesses rolling in massive profits? Simple: because most business owners are so focused on their business, they forget to take the necessary steps or just overlook (or ignore) them when playing the money game."
The chapters of the eBook start with the money game basics where businessmen are prompted to read the rules and spend less than they earn. The next chapter focuses on playing smarter, not harder where the author helps entrepreneurs to get a grip on expenses, understand margins, and find a mentor. Following is the missing piece: the accountant chapter. Here the author discusses correct structures, budget & record keeping, tax planning & savings, and long term goals. Last, but not least, Mr. Germanos writes on success; as he emphasises "this plan to financial success through business isn't a complicated one – and anyone who follows it correctly will achieve their goals."
Alliance Accounting are not just accountants; they are business advisors focussed on helping grow their clients' business and financial position. Mr. Germanos explains "The key strength of Alliance Accounting is our ability to place ourselves in your situation. Our accountants take the time to understand your business and you to be able to provide the best possible advice."
"Winning the Money Game" eBook is available to download for free at Alliance Accounting's website. The only thing users have to do is to enter their e-mail address to claim their copy. Visit their website today: http://www.allianceaccounting.com.au/.
About
Established in 2010, Alliance Accounting is proud to be a key business 'partner' for many of their clients. Specialising in matters of Business and Investing, the forward-thinking company not only assists clients in maintaining their business, but growing it to achieve their goals.
What's more, they're a Chartered Accounting firm backed by an industry leading membership body. Their office is further complimented by having a Director of Business who's a Chartered Tax Adviser, Fellow of the Taxation Institute of Australia and a Justice of the Peace.
Alliance Accounting's key strength is their ability to work as if they were in your position. They are business advisers from Sydney who go to great lengths to understand your business fully, in order to always offer the best possible advice.