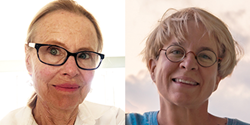 'Anointed' completely stopped me in my tracks, and I am better for having read it.
NORTHAMPTON, Mass. (PRWEB) October 15, 2019
Winning Writers is pleased to announce the results from its 27th annual Tom Howard/John H. Reid Fiction & Essay Contest. Barbara Milton of Milford, Connecticut won the $2,000 first prize for fiction for her story "The Snake". Margo Barnes of Tucson, Arizona won the $2,000 first prize for nonfiction for her essay "Anointed". 1,895 entries were received from around the world. Ms. Milton and Ms. Barnes also received one-year gift certificates from the contest co-sponsor, Duotrope.
"The Snake" is a subtle domestic drama in which the disappearance of a boy's pet intertwines with his mother's ambivalence about her marriage. Dennis Norris II, final judge of the 2019 Fiction & Essay Contest, said that Milton's story "functions in exactly the way an excellent short story should: I was on the edge of my seat, I had as many questions as I had answers, and I felt incredible tenderness and complex humanity by every character rising from these pages."
In "Anointed", the author depicts how her bipolar disorder once manifested as a heartbreaking obsession with burying roadkill animals, and how she learned to balance compassion with self-care. Norris said of Barnes' essay, "What feels initially like a bizarre anecdote from an eccentric neighbor evolves into a heart-wrenching offering on the ways a body copes with grief, mental illness, and destructive behavior. 'Anointed' completely stopped me in my tracks, and I am better for having read it."
Ten Honorable Mentions of $100 went to Haley Creighton, Lisa Ferranti, Celine Fitzpatrick, Reneé Flemings, Anne Gudger, Debayani Kar, Sadie Rittman, Quinn Rilla Squyres, Liza Stewart, and Michelle Symes. The judging was assisted by Lauren Singer Ledoux. The top 12 entries and judge's comments are published on the Winning Writers website.
The 28th contest is open now through April 30, 2020. The two top prizes have been increased to $3,000 each, and ten Honorable Mentions of $200 will be awarded. The entry fee remains unchanged at $20 per submission. The final judge will again be Dennis Norris II, fiction editor of Apogee Journal and a 2017 MacDowell Colony Fellow. See the contest guidelines and enter online.
In addition to the Tom Howard/John H. Reid Fiction & Essay Contest, Winning Writers sponsors the North Street Book Prize for Self-Published Books, the Tom Howard/Margaret Reid Poetry Contest, and the Wergle Flomp Humor Poetry Contest (no fee). Writer's Digest has named it one of the "101 Best Websites for Writers" (2015-2018).