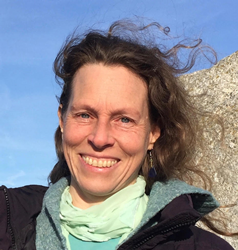 "More than a memoir, Our Last Six Months serves as a case study and conversation-starter for those end-of-life decisions that many families put off until a crisis hits."
NORTHAMPTON, Mass. (PRWEB) February 15, 2019
Winning Writers is pleased to announce the results from its fourth annual North Street Book Prize for Self-Published Books. Emily Bracale of Bar Harbor, Maine won this year's Grand Prize across all genres for her graphic narrative Our Last Six Months, a tender, homespun, and informative memoir of how her blended family came together to nurse her ex-husband through terminal cancer. She received $3,000, a marketing analysis and one-hour phone consultation with Carolyn Howard-Johnson, a $300 credit at BookBaby, and 3 free ads in the Winning Writers newsletter (a $450 value).
Five category winners each received $1,000, a marketing analysis and one-hour phone consultation with Carolyn Howard-Johnson, a $300 credit at BookBaby, and one free ad in the Winning Writers newsletter (a $150 value). They included:

Jeannine Bernardi of Castle Pines, Colorado, who won First Prize in the Children's Picture Book category for A Friendship Forever, illustrated by Rob Hay. This gentle story centers on a young chimpanzee whose best friend has died.
Angela Carole Brown of Valencia, California, who won First Prize in Mainstream/Literary Fiction for Trading Fours, a contemporary tale of broken dreams and found families in the Los Angeles jazz scene.
Carol DeMent of Tumwater, Washington, who won First Prize in Genre Fiction for Saving Nary, a wrenching yet ultimately inspirational historical novel about refugees from the 1970s Cambodian genocide who are resettled in small-town Oregon.
Francesco Granieri of Northfield, New Jersey, who won First Prize in Creative Nonfiction for Pavarotti and Pancakes, his memoir of growing up with a mother who slid into psychosis because of sexual abuse in her childhood.
W.R. Rodriguez of Madison, Wisconsin, who won First Prize in Poetry for his collection From the Banks of Brook Avenue, a soot-stained love letter to New York City's multi-layered immigrant history.
Five Honorable Mentions of $250 went to Sarah Hina, K. Gordon Neufeld, Petula Caesar, Juliette Chen, and picture book co-authors Barbara Jean Hicks and Kevin R. Wood. Final judges Jendi Reiter and Ellen LaFleche were assisted by Annie Keithline and Lauren Singer Ledoux. Excerpts from all the winning entries are published with the judges' remarks on winningwriters.com. $9,250 was awarded in all, making this one of the world's most generous contests for self-published books.
The fifth annual contest is open now through June 30, 2019. One Grand Prize winner across all genres will receive $3,000 plus marketing support, with runner-up prizes of $1,000 and $250 in each genre. The entry fee is $60 per book. This year's categories are Mainstream/Literary Fiction, Genre Fiction, Creative Nonfiction & Memoir, Poetry, Children's Picture Book, and Graphic Narrative (new for 2019).
In addition to the North Street Book Prize, Winning Writers sponsors the Tom Howard/John H. Reid Fiction & Essay Contest, the Tom Howard/Margaret Reid Poetry Contest, and the Wergle Flomp Humor Poetry Contest (no fee). Writer's Digest has named it one of the "101 Best Websites for Writers" (2015-2018). Join our 114,000 followers on Twitter.