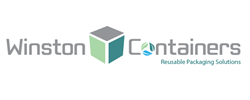 Because we are a family business, you will always be one phone call or email away from talking to a decision maker
Tampa, Fl (PRWEB) October 22, 2014
Winston Containers, which is based out of Tampa, Florida but sells products online nationwide, recently launched a new website that is devoted to helping customers find the right packing solutions for them. The company's new website offers sustainable packing solutions that can help improve distribution in any industry.
"With years of experience, we are certain that we can improve the supply chain performance for any of our customers while reducing material handling cost," said the company's spokesperson. "We offer a wide variety of products and warehousing in locations across the nation, and we look to be your reusable packaging solution."
Winston Containers is a new company, but they are serious about customer service. According to their website, they pride themselves on their ethical business practices, great prices and prompt response time to any issues that may arise.
"Customer service is key for us at Winston Containers," said the company's spokesperson. "Because we are a family business, you will always be one phone call or email away from talking to a decision maker."
The new website offers customers an easy shopping experience that clearly shares all of the company's products.
Customers can explore the available purchases such as bulk containers, handheld containers, corrugated plastic products or pallets. With an item such as the collapsible bulk container, customers can increase space while reducing waste. The collapsible bulk containers eliminate wasted space by freeing up valuable space for a customer's company and providing greater flexibility in storage.
Customers can also save money with lightweight plastic pallets that can be nested. This product is resistant to insects and bacteria while complying with ISPM 15 regulations. It is also a green solution as it is a 100 percent recycled product.
If purchasing is not the best solution for a customer, Winston Containers also offers rental options that can help a customer save money. Winston Containers offers long-term and short-term rentals on all standard-sized collapsible and fixed-wall bulk containers. Interested individuals should contact Winston Container for pricing and availability on rental products.
Winston Container's new website help customers solve their storage problems quickly and easily.
About Winston Container
Winston Container is a Tampa, Florida company that is dedicated to finding sustainable packaging solutions for any industry. For more information, please visit http://winstoncontainers.com/