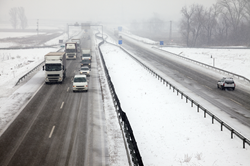 Clean headlights and taillights, properly aligned tires and good brakes may mean the difference between a safe, fun adventure and a nightmarish ordeal
Sunnyvale, Ca (PRWEB) November 11, 2014
The owners of Da-Les Auto Body Inc., a Sunnyvale auto body shop, are pleased to announce that they have just posted a new blog to the company's website that will help keep drivers safe this winter. The article, which is titled "7 Safe Winter Driving Tips from Da-Les Auto Body Inc.," is jam packed with useful advice.
It is probably hard to believe, but 2014 is winding down and soon cold and wintry weather will be here. Families are already starting to plan their winter vacations, which may include trips to the Lake Tahoe area and other places to ski and sled. Although winter can be a really enjoyable time of year, it can also be dicey at times for drivers, some of whom might not be experienced with driving on snow and ice. By offering readers safety tips, the owners of Da-Les Auto Body hope that they can be one of the trusted resources that local drivers turn to for help.
The number one tip, the new article advises, is for drivers to watch the weather very carefully. For people who have no choice but to head out in a snowstorm, it's better to be prepared ahead of time and know what to expect in terms of road closures and any other possible delays. In addition, drivers should also be sure that their vehicle is ready and able to handle the winter weather.
"Clean headlights and taillights, properly aligned tires and good brakes may mean the difference between a safe, fun adventure and a nightmarish ordeal," the new blog notes, adding that having the vehicle inspected for safety issues can keep the vehicle in safe running condition and make it more visible to emergency responders if an accident does occur.
For drivers who have a 4WD vehicle, the new blog cautions them against feeling like their car will be able to handle any and all road conditions.
"While 4WD can get you out of a lot of otherwise difficult or impossible situations, it is important to remember that you need to match your speed to weather and road conditions and to think a little further ahead than you otherwise might," the blog advises.
About Da-Les Auto Body:
Da-Les Auto Body is located at 728 San Aleso Avenue Sunnyvale, CA 94085 (contact phone number 408-734-3100). It is a full service repair facility that caters to foreign and domestic vehicles while utilizing the latest and most advanced collision repair techniques, tools and equipment. They have been named the number one collision repair facility for the past four years by Consumer Business Review. The Certified Green Investment shop has an impressive green program in place and is an award winner from the City of Sunnyvale for "Outstanding Commitment to Environmental Protection." Da-Les serves the Sunnyvale, Santa Clara, Mountain View, San Jose and Milpitas areas. For more information, please visit http://da-lesautobody.com/ or http://da-lesautobody.com/7-safe-winter-driving-tips-from-da-les-auto-body-inc/
Da-Les Auto Body Inc.
728 San Aleso Ave.
Sunnyvale, Ca. 94085
408-734-3100