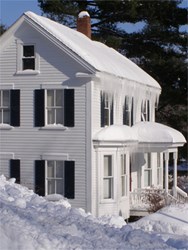 Winter is an important time for homeowners to complete simple home maintenance to keep everything running smoothly.
Wichita, Kansas (PRWEB) January 20, 2014
For most U.S. residents, winter is here. Although the tendency to do home improvement and maintenance projects seems to be most prevalent during the spring and summer, it's actually very important to stay on top of home maintenance during the winter as well. SecuritySystemReviews.com, a site that provides home security system reviews of top companies, including ADT reviews, has put together a list of the most vital, and basic winter home maintenance tips.
The following tips will keep homeowner safe, while also reducing energy costs and they can prevent the need for more expensive projects in the future.
1. Have a professional inspect a home's heating system before the start of winter, or as close to the start of winter as possible. A heater needs to be working efficiently, both from a safety and a cost standpoint. Damaged heaters, or heaters that aren't working properly can not only mean a homeowner will spend a bundle on energy costs, but they can also be dangerous and pose a fire hazard.
2. Reversing the ceiling fans is an extremely easy way to maintain a home during the winter. Many people just don't use the ceiling fans during the cold months, but by reversing them, a homeowner can dissipate the heat throughout the room, making it feel warmer, and saving on energy costs.
3. Cleaning the gutters isn't just a spring and summer project. By clearing the gutters of debris during the winter, it can be prevent freezing problems that can lead to leaks and roof damage.
4. Check the home's wireless security system components to ensure they're functioning properly. Aside from the actual burglar system, the carbon monoxide detectors and smoke detectors are very important during the winter months.
5. Inspect and clean the chimney at the start of winter. It'll probably be necessary to have a professional inspect it for signs of damage, and also clean it, but this is a cost that's well worth it in the long-term.
6. Give the home's insulation a thorough check. Insulation is a great way to save on energy costs, so if any replacement is needed, homeowners should get a jump-start before it gets really cold
7. Replace fire extinguishers if necessary. The majority of home fires occur in the winter, making it an important time to replace extinguishers.
About SecuritySystemReviews.com
A leader in providing reviews and information about security systems, SecuritySystemReviews.com is the premier independent resource for consumers. Whether a homeowner is seeking information about Michigan security systems, all the way to Texas security systems, it can all be located by visiting the website.