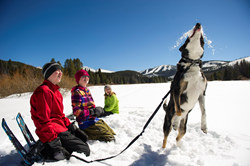 Winter Park, Colo. (PRWEB) December 11, 2014
The Winter Park & Fraser Chamber knows sticking to a budget while on winter vacation is important. The Chamber has made it easy for family vacation planners by announcing 25 Colorado vacation ideas, all under $20.
Tubing and Sledding
1. The Colorado Adventure Park, located just five minutes from Winter Park Ski Resort, offers activities for all ages and adventure levels. The most popular pastime is tubing ($18/hour). Snowscoots (kid-sized snowmobiles) rentals are also available for children ages six and up ($10 for 10 minutes). For kids under three there are complementary sleds and a mini-hill.
2. YMCA of the Rockies - Snow Mountain Ranch has a tubing hill with tubes available on site. Guests play for free while all others get in with the day pass ($20 for adults, $10 for kids 6-12, free for kids 5 and under). The pass also includes access to the swimming pool, climbing wall, roller skating rink, cross country skiing, ice skating and much more!
3. The Historic Fraser Tubing Hill is groomed, lighted and complete with a lift. Descend individually, in tandem, or in group clusters. Adrenaline-seekers can cozy up in the warming house with a hot drink and a snack. Rates are $15/hour Monday-Thursday and $18/hour Friday-Sunday.
Love Critters?
4. Meet Winter Park Willie at Winter Park Resort, and make s'mores campfire style on Wednesdays from 4-5 p.m. This event is free, but s'mores are on a first come, first served basis.
5. Cooper Creek Square offers free horse-drawn carriage rides through downtown Winter Park from 4-7 p.m. on Saturdays in January, February and March. There is also sledding at Hideaway Park for the little ones. Sleds are available at the Winter Park Information Center (78841 U.S. Hwy. 40). Afterward, play on the playground, shop, then dine at Cooper Creek Square.
Skiing & Snowshoeing
6. Rocky Mountain National Park, which is celebrating its 100 year anniversary this year, offers free ranger-led snowshoe tours during February and March. Bring your own snowshoes and ski poles and meet at the Kawuneeche Visitor Center. Call 970-586-1206 for reservations. (Children must be eight or older.)
7. Winter Park & Fraser Valley's hundreds of miles of hiking and biking trails become snowshoe and cross-country skiing routes in the wintertime. Stop by the Information Center (78841 U.S. Hwy. 40) for suggested snowshoe and cross-country trails in the Arapaho Wilderness or Experimental Forest – or even those that start right in town! Snowshoe rentals are available at most ski shops, while cross-country ski gear may be rented at Icebox Mountain Sports in Fraser, Devil's Thumb Ranch, Ski Granby Ranch or YMCA of the Rockies-Snow Mountain Ranch.
8. Ski Granby Ranch's Nordic trail system encompasses 25 kilometers of trails. Five dollars buys a single lift ticket to explore it all on snowshoes. Bring your own equipment or rent at Ski Granby Ranch. Ski Granby Ranch also has night skiing for $10 during selected nights/dates. Children five and under ski free, even during the day.
9. Winter Park Resort offers free mountain skiing/snowboarding tours to lift ticket holders every day at 10:30 a.m. and 1 p.m. for intermediate skiers and boarders.
10. Also at Winter Park Resort skiers and boarders between the ages of 6 and 12 years old can practice and show off their tricks in the mini rail park, Bounder, in the Village on Fridays, Jan. 10-March 14 (excluding Feb. 21). It's free!
11. With more than 100 kilometers of trails tracking through 5,200 acres of mountain meadows, YMCA of the Rockies-Snow Mountain Ranch's Nordic Center has something for everyone. Besides cross-country skiing, guests may also enjoy ice skating, sledding, tubing and snowshoeing. Activities are complementary for Snow Mountain Ranch guests, YMCA of the Rockies members, kids five and younger and adults 70 and older. For everyone else, a single-day cross-country skiing trail pass is just $20 for adults and $10 for kids 6-12.
12. Grand Lake Nordic Center boasts a variety of terrain within its 35 kilometers of groomed tracked and skating trails. The center is also perfect for snowshoeing, featuring a variety of routes through forests and meadows. A day pass is $14 for adults and $5 for kids 16 and under. Starting at 1:30 p.m., get a half-day pass for $12.
13. Devil's Thumb Ranch sits at the base of the Continental Divide and houses one of the premiere Nordic centers for Colorado cross-country skiing. Adults ski for just $20 a day; kids (under 12) and seniors (over 65) are $8.
14. The beautiful Pole Creek Golf Club offers free Moonlight ski/snowshoe excursions complete with hot chocolate. The outings are from 5-9 p.m. on Dec. 29, Jan. 26, Feb. 23 and March 23.
Ice Skating
15. Stop by the ice skating rink at Cooper Creek Square for a free spin. Rent your gear at one of the local retail shops for about $10, or bring your own for even more economical entertainment.
16. At the IceBox ice skating rink at the Fraser Valley Sports Complex adults skate for $6, while youth (4-17) and seniors (60+) are $5 and kids three and under skate free. Skate rental is $3/person and free for those under three.
17. Village at Winter Park Resort pond offers free skating lessons Dec. 12-mid-March. Bring skates or rent them at Village Rental located nearby.
Indoor Fun
18. At the hip new Foundry Cinema & Bowl in Winter Park movies are $10, bowling is $12/person/hour (or only $9/person/hour from 4-6 p.m.!), and food starts at just $6.50.
19. Periodically, Grand County Blues Society hosts concerts at various locations around Winter Park & Fraser Valley that are under $20 (and sometimes free!). Check out the Grand County Blues Society website for an updated events list.
20. For $10/day/adult (less for kids), the Grand Park Community Recreation Center in Fraser offers an aquatic center that includes a 25-yard lap pool, hot tub, lazy river, water slide, and play structure for young children, a multi-sport gymnasium, gymnastic center, climbing wall, cardio/circuit training/free weight areas, fitness classes, whirlpool, sauna, steam room, and drop-in child care.
21. Mountain Moon Yoga offers a variety of yoga classes for all skill levels throughout the week for just $15 per
class,while Elevate Pilates & Physical Therapy has group Pilates classes for $20 each.
22. Brewery Tours and Wine Tastings are offered at the Hideaway Park Brewery, The Library and Winter Park Winery. There are also happy hours at various locations around town. Check with the staff at the Winter Park Information Center for tour and tasting details, and a weekly list of happy hour specials.
Museums & History
23. Cozens Ranch Museum is the site of the first ranch and stage stop in the Fraser Valley. The original 1876 house tells the story of early life in the Fraser Valley. Admission is $5/adults, $4/seniors (62 and older), $3/students and free for children under six.
24. Grand Lake is home to the Kauffman House Museum, which costs just $5 for adults and is free for kids 12 and under. Built as a hotel in 1892, the building is the last of the early Grand Lake log hotels in existence. The museum has been restored to its historic appearance and contains many original furnishings.
25. The Pioneer Village Museum in Hot Sulphur Springs tools, clothing and artifacts from the old west live on. Admission is $5/adults, $4/seniors (60 and older), $3/students and free for children under five.
To learn more about planning a vacation to Winter Park visit http://www.playwinterpark.com. Or, check out the Winter Park Deals page for lodging packages.
About Winter Park & Fraser Chamber (http://www.PlayWinterPark.com)
The Winter Park & Fraser Chamber is a non-profit Colorado corporation created to help further and maintain responsible growth in the Winter Park & Fraser Valley area, located in the Rocky Mountains just 65 miles west of Denver.
(end)