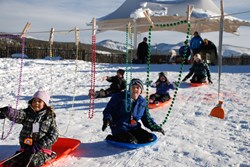 Winter Park, Colo. (PRWEB) November 21, 2013
Winter Park-Fraser Chamber today announced the dates and details for its brand new winter event, The Stagecoach Classic. The event kicks off the wild and wacky winter festival season in Winter Park. Here are the highlights.
**Please note that event dates are subject to change. Check out the Winter Park events calendar for updates and a full list of festivals.
Jan. 25: The Stagecoach Classic (Tabernash & Winter Park)
This new addition to the annual Winter Park Carnival celebration (see below) is a 30km/15km classic cross country ski race and tour. It starts at Devil's Thumb Ranch Resort & Spa, traverses through the former Idlewild Ski Area, and finishes with a post-race BBQ and live music at Hideaway Park in downtown Winter Park. This race follows the Idlewild Trail System, which used to link Tabernash, Fraser and Winter Park. Many skiers have found memories of Idelwild as one of the best Nordic ski areas in Colorado. This event offers a rare chance to ski such a beautiful "off the map" course. It is also the only time during the winter season that the Idlewild Trail System will be connected and groomed for skier access. A portion of the race and tour proceeds will benefit the Trout Unlimited campaign to protect and preserve the endangered Fraser River.
Jan. 25-26: Winter Park Carnival-Mary Jane's Birthday Bash (Winter Park Resort & Winter Park)
This celebratory weekend pays homage to Mary Jane Mountain's namesake, a well-known madam and local lady of the evening who lived in the area in the late 1800s. The 38th birthday bash kicks off at the Yager House at Devil's Thumb Ranch, then the party continues in Winter Park. Highlights of the weekend include an ice and snow sculpture contest, a "Mary Jane and The Miner" look-alike contest, a pancake and birthday cake breakfast, free ski clinics, a Mary Jane sticker contest, a night parade in downtown Winter Park, and fireworks.
Feb. 15-16: Grand Park Dog Days of Winter (Fraser)
During this event weekend the Winter Park area goes to the dogs (literally!), and guests are in for a "howling" good time. The International Sled Dog Racing-sanctioned event features a number of different categories of teams, such as one- and two-dog skijor; three dog junior sled; four-, six- and eight-dog sled (non-sanctioned); and three- and four-dog sportsman. The event is sponsored by the Rocky Mountain Sled Dog Club.
Feb. 21-23: 39th Annual Wells Fargo Ski Cup (Winter Park Resort)
This is the longest-running professional ski race in the country, and it's the only race in the world where disabled skiers compete head-to-head on parallel courses, in the same format used in professional events. The weekend festivities also include a Kids Snowplow Sprint, a two-day silent auction to benefit the National Sports Center for the Disabled (NSCD) and more.
March 22: Winter Park Wipe Out (Winter Park)
This event is part urban scavenger hunt, part adventure race. Participants pinball around downtown Winter Park working through mystery clues and obstacles, earning party beads and raffle tickets along the way. Challenges include snow mobile tows, frozen turkey shuffleboard and more.
March 22: Beach Bash, Ski Granby Ranch (Granby)
Life's a beach…in Colorado? It is for one day in March! This is a fun-filled event for the whole family features activities, games and beach music, followed by night skiing. Kick back with a frozen margarita or daiquiri from a tiki snow bar, and get footloose at the base-area dance party. Ski Granby Ranch is a great place for families to ski and ride. It offers easy lift access, tree skiing, a terrain park and wide-open runs for every level of skier.
Winter Park-Fraser Chamber (http://www.PlayWinterPark.com)
The Winter Park-Fraser Chamber is a non-profit Colorado corporation created to help further and maintain responsible growth in the Winter Park-Fraser Valley area, located in the Rocky Mountains just 65 miles west of Denver.