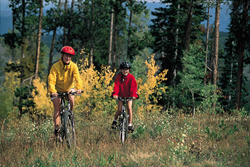 'Colorado's Favorite Playground' features 600-plus miles of trails
Winter Park, Colo. (PRWEB) September 24, 2014
The Winter Park & Fraser Chamber invites visitors of all biking abilities to check out Mountain Bike Capital USA™ this fall for a fun, colorful autumn experience. The area even offers "Bike & Stay" packages through October (weather permitting), which offers lodging and bike rentals for one low price.
Here are the top three trails to check out this fall. For more options check out the Mountain Bike Capital USA™ trail map on MTBcapitalUSA.com.
1. King of the Rockies, Winter Park Resort
Largely considered the iconic bike ride of the region, this trail is a can't miss for any biker. It's an intermediate ride that covers 25.2 miles and starts at the Winter Park Resort. It can also be accessed from the rodeo grounds in Fraser for those who want to make the ride a little shorter.
2. The South Fork Loop, Idelwild
This is a beginner-to-intermediate trail that can be 4.4 to 7.4 miles, depending on the route chosen. To access the Idelwild Trail System it's best to park at Sitzmark Campground, located directly off Highway 40 just past Hernando's Pizza Pub in Winter Park.
3. Vista Ridge & Sweet Nancy Trail, Granby Ranch
Granby Ranch is located about 20 miles north of Winter Park in the town of Granby. Park at the base village and then take Nature's Way trail up from the base – a gradual 1,000-foot climb to Vista Ridge Trail. Follow Vista Ridge down and take a right on Cabin Trail, then a left on Rabbit Run. Take another right to continue on Rabbit Run, then a hard left onto Sweet Nancy.
Those who ride their own bike – rather than renting one at one of the many bike rental shops in the Winter Park & Fraser area – will want to take a few steps to properly store their bike for the winter season.
1. Clean up your bike. Wash off any leftover mud, paying special attention to the brakes and derailleurs. Mud that is left to dry over the winter can pull the paint off in the spring.
2. Lube the chain. This will keep it from drying out over the cold winter months.
3. Consider an end-of-season tune-up. Tuning the bike at the end of the season – rather than the beginning of the next season – can help you avoid the crowds and ensure your bike is ready to go at the first sign of spring!
4. Store it inside. Finding a place indoors – even if it's not heated – to store your bike will keep moisture from building up and rusting the bike.
About Winter Park & Fraser Chamber (http://www.PlayWinterPark.com)
The Winter Park & Fraser Chamber is a non-profit Colorado corporation created to help further and maintain responsible growth in the Winter Park-Fraser Valley area, located in the Rocky Mountains just 65 miles west of Denver.