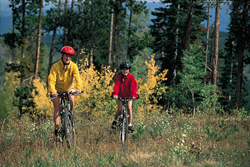 Winter Park's alter ego is Mountain Bike Capital USA(TM) because of the vast number of trails in the area that are good for hunting down fall hues.
Winter Park, Colo. (PRWEB) August 26, 2015
The summer temperatures are still soaring across much of the country, but believe it or not, autumn will be here soon. Just in time for exploring Winter Park's 600-plus miles of trails that are great for hunting down fall hues, September has been dubbed "Try a New Trail Month." Today, the Winter Park & Fraser Chamber named the top four ways to enjoy fabulous fall, "Colorado's Favorite Playground" style.
Mountain Biking
Winter Park's alter ego is Mountain Bike Capital USA™ because of the vast number and variety of trails in the area. Rogers Pass is a classic mountain bike ride that features picturesque panoramic views of the Continental Divide, Winter Park Resort, Williams Fork Range and Indian Peaks Wilderness Area. Another local's favorite is Tipperary Trail, a signature trail that is typically used in Winter Park Resort's Epic Singletrack Race Series. Riders who tackle the steady climbs through beautiful meadows are rewarded with views of golden aspens, the quintessential Colorado foliage. Check out all of the trail options on the Mountain Bike Capital USA™ interactive trail map and check out the plethora of local bike shops for rentals and gear.
Hiking
The same trails that bikers use are also available for hiking. Jones Pass is a 6.5 mile trek that crests the Continental Divide above the tree line, earning hikers an up-close-and-personal look at Mother Nature's fall colors. James Peak Protection Area encompasses 14,000 acres of stunning peaks and lovely lakes. Lucky hikers might even encounter wildlife like elk, deer, bighorn sheep or mountain goat along the way.
Horseback Riding
Those interested in hoofing it – literally – through Winter Park's trail system should try horseback riding. There are many companies throughout Winter Park and the Fraser Valley that can expertly guide even the most novice city slicker through the Colorado backcountry on horseback. Reservations are recommended.
Camping & Glamping
Sometimes a day trip just doesn't cut it, and in that case, staying overnight in the Colorado mountains might be just the ticket. There are plenty of campsites and RV parks around Winter Park, but there are also some less rustic camping options for those who aren't interested in roughing it. The Broome Hut, located near the timberline on the west side of Berthoud Pass, is part of the Grand Hut system, which are owned and operated by the Grand Huts Association. This hut offers one of the finest high altitude hiking locales in Colorado. Arapaho Valley Ranch, just outside of the nearby town of Granby offers "glamping" in luxury tipis or tents in addition to regular campsites. The yurts at Snow Mountain Ranch-YMCA of the Rockies feature a platform tent with a wooden frame.
About Winter Park & Fraser Chamber (http://www.PlayWinterPark.com)
The Winter Park & Fraser Chamber is a non-profit Colorado corporation created to help further and maintain responsible growth in the Winter Park-Fraser Valley area, located in the Rocky Mountains just 65 miles west of Denver.