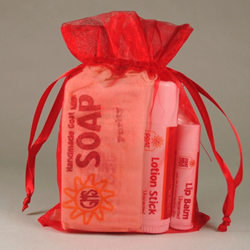 Goat Milk Stuff's Sensitive Skin Pack is designed to keep skin moisturized and soft in cold or hot weather.
Scottsburg, Indiana (PRWEB) February 28, 2014
With cold weather sweeping the nation, Goat Milk Stuff announced the increasing popularity of its Sensitive Skin Pack of natural, chemical-free goat milk soap, lotion, lip balm and laundry soap as people seek relief for dry skin and other skin problems.
PJ Jonas, the mom of 8 who founded Goat Milk Stuff on the family's Indiana farm, said, "Cold weather is typically accompanied by low humidity and winter's chilly winds also take moisture from exposed skin. Goat Milk Stuff's Sensitive Skin Pack is designed to keep skin moisturized and soft in cold or hot weather."
She added, "People tell us their dry or sensitive skin symptoms, including eczema and psoriasis, improved with Goat Milk Stuff scented soaps because each bar contains goat milk that is so good for skin. For people who are sensitive to scent, our unscented products bring them the same goodness of goat milk."
Presented in an organza bag, the Sensitive Skin Pack contains a 5-ounce bar of unscented Purity goat milk soap, an unscented lotion stick, unscented lip balm and trial size laundry soap. The set costs $20 and can be ordered at GoatMilkStuff.com.
Media has reported about the healthy quality of Goat Milk Stuff products, including Chicago CBS affiliate WGN-TV recently interviewing PJ and Jim and their 8 children, ages 6 to 17, on its Midday News.
TV's hit show, The Doctors, and Oprah Magazine also featured the Jonas family and Goat Milk Stuff.
PJ taught herself to make soap with milk of the family's goats on their Indiana farm so that her children could avoid the harsh chemicals in store-bought commercial soaps. From that humble start, the family's Goat Milk Stuff business has grown dramatically with customers across the USA and around the world.
PJ said, "When I started making our goat milk soap, I put it in the shower and my husband Jim's fingers stopped cracking and splitting. I knew then that others would also enjoy and benefit from our soaps. Goat Milk Stuff's soaps are for daily use, with the added benefit of protecting and pampering skin."
The full assortment of goat milk soaps, lotions, lip balms, bath products, laundry soap and more is available online at GoatMilkStuff.com.
Every product of Goat Milk Stuff is made with care of the Jonas family. Each of the homeschooled children participate in an age-appropriate way from milking goats to helping in the office.
The Jonas business also maintains an active social media presence with a growing following on Facebook at Facebook.com/GoatMilkStuff, YouTube at YouTube.com/GoatMilkStuff and on Twitter at Twitter.com/GoatMilkStuff.
Online at GoatMilkStuff.com, the Scottsburg, Indiana company makes and markets all-natural Goat Milk Stuff™ products including goat milk soaps, lip balms, lotions, bath bombs, laundry soap, soy candles and more. For media, licensing or entertainment, contact Brian Dobson at DobsonPR.com or BD(at)DobsonPR(dot)com.