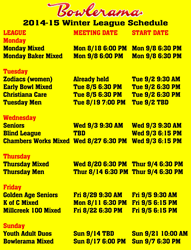 New Castle, DE (PRWEB) August 19, 2014
Bowlerama Family Entertainment Bowling Center will be starting all winter leagues after Labor Day, 2014. This is the first year Bowlerama didn't send out a mailing to all league bowlers. Reliance will be on social media posting, emailings, press releases and other forms of online activities.
Labor Day comes early this year, so leagues are starting sooner! Check the schedule for meeting times.
League bowlers will need to contact their league officers or Barbara Cochran to register for their leagues this year. A schedule of league meeting and starting dates are available on Bowlerama's website.