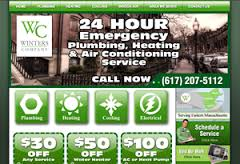 we show up on time, fix it right the first time and fix it today. We provide a lifetime warranty on many services and we provide competent, friendly technicians
Boston, MA (PRWEB) January 28, 2014
Cambridge plumbing, heating and air conditioning experts at Winters Home Services are proud to announce 10 new coupons for 2014 on for their most popular services. To get your coupons today visit the specials page on the website. Winters Home Services have been in business since 1996. The goal of the owner, Tim Flynn, is to provide service to his customers the way he would like to receive it, "we show up on time, fix it right the first time and fix it today. We provide a lifetime warranty on many services and we provide competent, friendly technicians," says Tim.
"We took a long look at the most common types of jobs people call Winters Home Services for and created some really good offers to help people save money" says Tim Flynn, Owner of Winters Home Services
One of the most common calls Winters gets is from people who need a new heating and/or air conditioning system. "When the house isn't the right temperature people get uncomfortable and frustrated. We are now offering $250 off on a complete heating and air conditioning system," says Tim. The benefits of a new heating and air conditioning system go far beyond just providing a comfortable temperature; it can also increase your home value and reduce your monthly energy bills. The technicians at Winters Home Services will help you understand how the efficiencies are measured to install the right size system for your home and how the right system will create monthly energy savings. They can also help consumers better understand how a new system will provide better air quality within the home.
Another common call Winters receives are people concerned about the quality of their drinking water. Some people only drink bottled water this adds unneeded waste to the environment and additional expense to the monthly budget. Winters Home Services now offers a coupon for $149 off a complete water filtration system. Reverse Osmosis water filtration systems provide clean drinking water for people and pets. Unlike carbon based filters, RO systems actually remove impurities instead of just reducing them.
To learn more about Boston plumbing, heating and air conditioning by Winters Home Services please visit their website http://www.wintershomeservices.com. To schedule services please call (617) 209-2994.