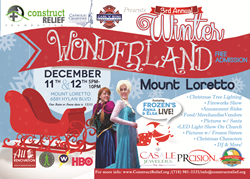 Given the response the community had to our Fall Festival, we're excited to play host to this celebration of Christmas
Staten Island, NY (PRWEB) December 01, 2015
Three local non-profit organizations have combined forces to put on what is poised to be the boroughs largest holiday event this season. Catholic Charities of Staten Island, Contruct Relief Foundation, and The Carl V. Bini Memorial Fund will host the Third Annual Winter Wonderland on Friday, December 11th and Saturday, December 12th from 5pm-10pm each day at Mount Loretto, with Saturday also featuring the Island's first Santa Shuffle 5k fundraiser.
"Given the response the community had to our Fall Festival last month, we're excited to play host to this celebration of Christmas," said Chief Executive Officer of Catholic Charities of Staten Island, Vincent Ignizio. "There's a lot in store including a fireworks display each night, and the unveiling of our new Lights of Angels, an advanced LED lighting system on the façade of the Church, sponsored by The Joseph Anthony Verdino Jr. Field of Dreams Foundation."
The lighting system will be comparable to that of the Empire State Building with multicolored LED's which can be synchronized to music, project images on the building, and be lighted specific colors for holidays and events.
In addition to the fireworks and Lights of Angels display, each night the event will also feature rides and attractions, food vendors, pictures with Santa Claus, the lighting of a 30 foot Christmas tree, Frozen characters, Christmas trees for sale with 100% of the proceeds raised to benefit charity, and live musical performances. At 10am on Saturday, December 12th the Mount will also play host to a Santa Shuffle 5k, where participants will be given Santa hats and beards to don while they walk, run or dance their way through Mount Loretto's campus.
"We're proud to partner with Catholic Charities and The Bini Fund on this two-day event," said Dominick Ciccarelli, Associate of Think Design Architecture and President of the Construct Relief Foundation. "We've had great success with the event the past two years, but with the new location and other non-profits involved we have something truly special to offer the community this time around."
The Winter Wonderland event will run from 5pm-10pm December 11th and 12th and admission is free. The Santa Shuffle 5k will be held on Saturday, December 12th at 10am and registration is $35 for adults and $20 for children 12 and under. For more information please visit http://www.mountloretto.org or dial Anthony Rapacciuolo of PRcision, the event's coordinator, at (718) 490-5023.