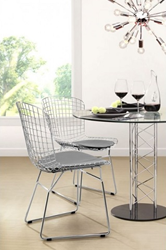 The type of metal used for the wire or the type of finish it has can have a huge impact on the overall appearance of a wire framed furnishing, whether it's a chair or table or a smaller decor item.
(PRWEB) April 27, 2015
HomeThangs.com – the Online Home Improvement Store has made their goal to deliver the right product to the consumer. With that in mind, shopping and home design tips, as well as special product selections are being introduced.
Wire framed furnishings and decor items have been around practically forever – from humble wire egg baskets to the elaborate bent wire furniture popularized in the middle of the last century. But lately all types of wire framed items are making a comeback, from farmhouse chic to mid century modern. HomeThangs.com has introduced a guide to this unusual new trend and how to make it work with a variety of different styles.
One of the most important features of wire framed furniture and decor items is maybe the most obvious: they're see-through. This is a small, simple thing, but one that has important ramifications. Items made of wire have significantly less visual impact on a room than an item of the exact same size and shape made out of almost any other material. Like clear plastic chairs (another hot trend right now), the fact that they're see-through is a large part of why they're so appealing: it's possible to put more furniture in the same amount of space without making it look or feel crowded.
But what really makes this trend shine is that it's so versatile. Simply changing the type of wire used from stainless steel to brass, gold, or a basic black or white can completely alter the look and feel of the piece as a whole. Though wire frame furniture isn't solid enough to have a lot of added on detailing, even just the way the wires are arranged and bonded together can create a look that's more modern or traditional, or something that's very clean and sleek versus something humble and rustic.
For a more in depth look at this unique trend, check out the full article here.
HomeThangs.com is not only a home improvement superstore, it also provides expert design tips and a comprehensive shopping guide, taking the ideas from professional interior designers, and offering tips to the consumers on how to pick the products to best suit their needs.