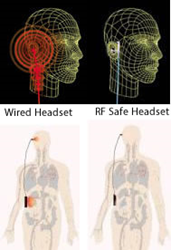 The entire front flip cover of the phone is shielded with Peel n Shield™ for maximum cell phone radiation safety when a cellphone is carried in a pocket in near proximity to the body.
Los Angeles, CA (PRWEB) April 04, 2014
RF Safe suggest cell phone radiation protection in response to the Environmental Health Trust's latest March 28th, 2014 newsletter, studies link cell phone radiation to male reproductive problems.
The report reviews the scientific literature to date and shows that ten studies have found significant changes in sperm exposed to cell phone radiation. EHT Spring News Letter 2014: http://myemail.constantcontact.com/Spring-Newsletter--Cell-Phones-Impair-Erectile-Function.html?soid=1116515520935&aid=_yrEmKOV61w.
These studies show men who carried their phones in a pocket or on the belt were more likely to have lower sperm counts and/or more inactive or less mobile sperm.
RF Safe provides solutions to wired headsets having a two part problem when it comes to cell phone radiation.
---- First Wired Headset Radiation Problem: SOLVED Handling a Phone Safely
Solution - RF Safe Pocket or Flip Case Radiation Shields
The first part of this problem with wired headsets was covered by the popular SourceFed news girls Trisha Hershberger and Meg Turney on their April 3rd, 2014 episode titled "Penis Not Working? Could Be Your Cell Phone!" It's an entertaining 2 minute clip that gets an important massage out which was shared with over a million subscribers on the shows YouTube channel - https://www.youtube.com/watch?v=PEXZfUJt470.
"It is common for men who talk on a cell phone using a Bluetooth device or other wired headset, that the phone is kept in a pants pocket or clipped to a holster. This exposes reproductive organs to cell phone radiation which lowers sperm count and/or poorer sperm quality in men who use their phones this way than in those who do not," says John Coates, RF Safe Founder.
RF Safe's innovative new cell phone radiation case with shielded flip cover provides user-friendly access to all the phones ports and features. The entire front flip cover of the phone is shielded with Peel n Shield™ for maximum cell phone radiation safety when a cellphone is carried in a pocket in near proximity to the body.
The research supporting claims of reduced sperm count were published in the US National Library of Medicine National Institutes of Health on Apr 26, 2013 - http://www.ncbi.nlm.nih.gov/pmc/articles/PMC3921848/.

Men talking on the phone for more than an hour a day had 17% fewer highly motile sperm than men who talked less than 15 minutes a day.
Men carrying a phone in a hip pocket or on a belt had 11% fewer mobile sperm than men who kept their phone elsewhere on their body.
Men carrying a cell phone on a belt and using it intensively during a five-day test period had a 19% drop in highly motile sperm from previous levels.
---- Second Wired Headset Radiation Problem: SOLVED
Solution - RF Safe Air-tube Headset
After nearly a year-long investigation, Dr. Sanjay Gupta reports that everything we knew about cell phone usage and radiation exposure is not as it appears. His findings are stunning and have already changed the way many people, including Anderson, are using and carrying their mobile devices and hands-free headsets. Dr. Sanjay Gupta explains that radiation can travel along a headsets wire to the brain and suggest everyone use an Air Tube Headset - "Hollow Tube Headset."
The headset wire connecting a cell phone and earbuds at times may serve as an antenna that radiation can radiate from when a wired headset is used with a cell phone. The radiation generated by the cell phone is transferred through the wire connecting the phone and earbuds - then radiation penetrates the head directly through the ear canal. Cell phone headset earbud emissions into the ear canal can be higher than the emissions when placing a phone directly against the ear depending on what type of RF test is performed.
RF Safe headsets are a combination of engineering feats that overcome the potential hazards of radiation reaching the ear canal. By delivering live on-stage sound through thin acoustic air tubes instead of wires users can enjoy excellent sound without electrical components in the ears.
"Anyone that's currently using an ordinary cell phone headset, or planning on doing so to limit radiation exposure - needs to learn more about RF Safe Headsets as a solution to cranial exposure to phone radiation when reviewing their headset options," says John Coates, RF Safe Founder.
Radiation concerns aside, RF Safe's acoustic sound delivery to the ears is being highly praised by musicians as live on-stage sound only acoustic tube technology can deliver.
RF Safe Air-tube Headsets are made for all model smart phones with standard 3.5mm and 2.5mm headset jacks. Including All Apple iPhone, Nokia, Google and Samsung Galaxy S Smartphone Models
ABOUT RADIO FREQUENCY SAFE – RFSAFE.COM
RF SAFE is the world's premier provider of cell phone radiation protection accessories and informational data. Since 1998 RF (Radio Frequency) Safe has been dedicated to evolving the wireless industries safety standards, by engaging in the business of design, testing, manufacture, and sale of safety technologies to mitigate harmful effects of cell phone radiation.