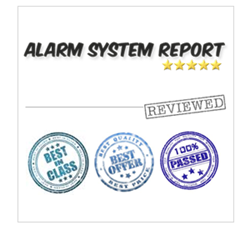 The Best Wireless Alarm System Companies of 2014 have recently been revealed at AlarmSystemReport.com
Phoenix, Arizona (PRWEB) February 10, 2014
Experts at AlarmSystemReport.com made an extensive review of alarm system companies that offer wireless solutions because of the growing popularity of wireless home alarm systems among homeowners. These alarm system reviews were designed to assist readers in choosing the right wireless alarm system according to their needs and budgets.
Recently, AlarmSystemReport.com has announced that FrontPoint Security, Protect America, LifeShield Home Security, Vivint Home Security, and ADT Security are its top wireless alarm system companies for 2014. Experts found out that these companies have the ability to provide large and small properties alike with a simple and easy to install wireless alarm system solution at affordable and flexible rates.
Alarm System Report's selection process was not easy and several factors were considered to be able to come up with an unbiased and truthful result. Experts rated each alarm system company using the following criteria – affordability, customer service, support, equipment quality, and warranty. Based on these criteria, all the wireless alarm systems reviewed were given stars as points.
Among the winning wireless alarm system companies, FrontPoint Security garnered the perfect score of 5 stars. Protect America, Lifefshield Security, and ADT Security, meanwhile, were rated with 4.5 stars. Vivint Security, on the other hand, were rated with 4 stars.
Alarm System Report's wireless alarm system reviews discussed the following facets of the featured alarm system companies – the company overview, monthly monitoring service, installation, the different equipment packages, and pricing arrangements.
There is also a section in each review dedicated to discuss the alarm system discounts and promos available. Alarm System Report knew the importance of saving a few or more bucks for customers. This is why it had made it its mission to help readers find the best ways to get the greatest deals possible for their wireless alarm system needs.
Alarm System Report's review also included a section to answer the most frequently asked questions (FAQs) about wireless alarm systems. The following questions were answered in detail in the reviews: What is the cost of a wireless alarm system? Can a wireless alarm system be easily defeated? How easy is it to install a wireless alarm system? How are wireless alarm systems monitored? How can I learn more about wireless alarm systems?
More comprehensive assessments of each of these winning home alarm systems are published at AlarmSystemReport.com. Interested homeowners are encouraged to read the reviews and see how these could help them.
About AlarmSystemReport.com
With a mission to provide valuable assessments of the different alarm system companies to its readers, AlarmSystemReport.com has already established itself as the best reference site for everything about alarm systems. It is completely independent from the alarm system companies featured and its reviews are unbiased and transparent all throughout.