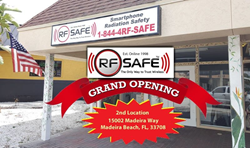 Once you see the research, there is no question about it.
Tampa Bay, FL (PRWEB) October 10, 2016
RF Safe has opened the doors to the world's very first Wireless Education Center in Madeira Beach, FL.
The center will house the very first hands on displays for everyday people to understand the hazards of cell phone radiation. The goal of this new state-of-the-art is to educate the general public on the importance of cell phone radiation safety, by demonstrating different ways to test Smartphone radiation output and the effectiveness of RFR shielding.
Displays of all RF Safe products, available here, will also be featured, with onsite staff to answer any wireless safety questions.
NEWS Channel 8 interviewed Coates on the history behind his mission to raise awareness. Local mom, Kristin Davis provided her own feedback on why wireless radiation safety is important to her family.
"Once you see the research, there is no question about it," Davis advises to other concerned moms, "May as well protect yourself now, you never know what's going to happen in the future."
$1 from all pink RF Safe products will be donated help fund breast cancer research for National Breast Cancer Awareness Month.
RF SAFE is a world-leading provider of cell phone radiation protection accessories and informational safety data. Since 1998, RF (Radio Frequency) Safe has been dedicated to evolving the wireless industries safety standards by engaging in the business of design, testing, manufacture, and sale of safety technologies to mitigate harmful effects of cell phone radiation. Learn more ways to avoid excessive RF exposure by visiting RF Safe online at rfsafe.com