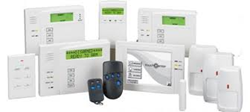 Wireless security systems are become more and more popular as consumers discover more about their capabilities and usability.
Milwaukee, Wisconsin (PRWEB) April 03, 2014
Security System Reviews knows its not easy was not easy for customers to decide which wireless security company to choose. Therefore, the security system experts at SecuritySystemReviews.com have conducted extensive reviews on the leading wireless security systems in the industry today.
After a scrupulous assessment of the market, the review authority has proclaimed FrontPoint Security, Protect America, Vivint Home Security, LifeShield Home Security, and ADT Home Security as 2014's Best Wireless Alarm Systems in the United States. While there are many companies offering these types of security systems, the experts only recommend these wireless systems.
According to the reviews, the SecuritySystemReviews.com's process of choosing the best wireless home security systems is similar to the process it used when creating all its other security system reviews.
Its well-defined process involves a team of experts to secretly shop at the wireless security system companies. This step is undertaken to fill in the void that other review site fail to address – putting the reviewers in the whole research process that actual consumers face.
After the secret shopping, the experts begin to write reviews that are focused on the aspects that potential security system buyers are most interested in. According to the site, its team of experts does not write highly technical reviews because their target market is not the industry expert. Instead, they simplify the reviews by focusing on questions that consumers need answered when buying a wireless security system for their home.
The next step is for the security system experts to meet up and share the information they have gathered amongst the staff and then vote to determine which wireless security systems should they recommend for consumers. The voting process is a unanimous decision, meaning it is required for a security system company to get the nod of the entire team to be included in the list. This is the organization's way of ensuring the integrity of all the security system reviews published in the site.
It was also noted that the whole staff takes a conscious effort of reviewing the systems without bias. Throughout the process of writing each wireless security system review, the experts maintain an impartial opinion for the sake of consumers.
The work of SecuritySystemReviews.com's staff does not end in the publication of its security system reviews. They constantly monitor the home security system industry to keep track of the latest offerings of the featured wireless security system companies. Information on the site is regularly updated for its readers.
About SecuritySystemReviews.com
SecuritySystemReviews.com provides complete and comprehensive online information about the leading security system companies in the market. It provides unbiased, complete, and up-to-date assessments of security system companies to help readers save time and money while researching home security system.
# # #