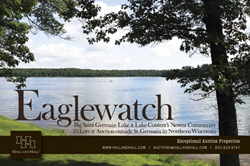 The majority of the property is made up of vacant, buildable lots, but several lots include charming cottages and other improvements.
Eaton, CO (PRWEB) August 08, 2014
Previously used as a corporate retreat, Eaglewatch offers a rare opportunity to purchase 200-acres of lakefront property on Big Saint Germain Lake and Lake Content in St. Germain, Wisconsin. The secluded property offered in 23 lots and combinations shares a channel with Big Saint Germain Lake, which affords all the activities of a large lake including extensive water sports and trophy fishing. The majority of the lots are vacant and buildable, but several include charming cottages and other improvements. The auction is slated for Thursday, September 18th at 1 PM CST at the St. Germain Community Center. For more information, contact Scott Shuman of Hall and Hall Auctions at 800-829-8747 or visit http://hallhall.com/ranches-for-sale/properties/eaglewatch.
"Eaglewatch offers access to 1,883 acres of water and 10,000 ft. of lake frontage," said Shuman. "Lot 20 even offers a rare property with lake frontage on two different lakes."
Tract 14 has a storage shed and historic ice house, but the tract is mostly unimproved, offering a blank canvas for a dream home. Tract 15 has a 3-bedroom, 2-bath cabin with a full basement that sits back away from the water and a garage/shop perfect for any handyman. It also offers a charming lakeside cottage known as the "quiet house". Tract 16 has a 9-bedroom, 4-bath lodge with a commercial kitchen capable of hosting large gatherings. The kitchen has a 3-bedroom, 1-bath living quarters upstairs. The boat house on the Tract has a large dock and cleaning station perfect for the boater and fisherman.
"Boathouses are a rare gem to find as current DNR regulations do not allow for new construction of boathouses," said Shuman. "This boathouse has been grandfathered in making Tract 16 a very unique find."
Lake Content offers a private peaceful setting with 239 acres of water. It connects to Big Saint Germain Lake through a channel. Big Saint, as it is known locally, allows for unlimited boating activities and is considered a top-notch fishery. It offers a wide variety of species including largemouth bass, smallmouth bass, walleye, and trophy caliber pike and musky.
Information dates are set for August 15th & 16th from 10:00 AM CST – NOON, and September 5th & 6th from 10:00 AM CST – NOON. To schedule additional showings, please contact Hall and Hall Auctions at 800-829-8747.
About Hall and Hall:
Hall and Hall was formed in 1946 as an agricultural mortgage company, and has since branched out into farm and ranch brokerage, appraisals, resource management and enhancement, retained search, auctions, and consultation on conservation easements and stewardship plans. Hall and Hall has emerged as the largest full service rural real estate firm in the Rocky Mountain West and Great Plains regions, managing more than one million acres of land, and servicing a loan portfolio of more than $500 million. A unique partnership between seven offices across six states ensures that the client receives local knowledge and personal service as well as the international perspective needed to make informed acquisition and management decisions.