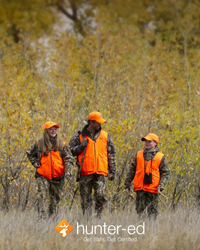 Madison, WI (PRWEB) August 08, 2014
Wisconsin hunting seasons are fast approaching. Those Wisconsin residents hoping to partake should plan ahead to make sure they have all of the appropriate certifications in order to be legal.
Wisconsin law requires anyone born on or after January 1, 1973, to complete a hunter safety course before obtaining a Wisconsin hunting license. However, if hunters participate in the hunting mentorship program, or they have successfully completed basic training in the U.S. armed forces, reserves or National Guard, they do not need a hunting safety course in order to buy a license. Wisconsin hunters who need to complete a hunter safety course before getting their hunting license this fall can now get started on their official training at hunter-ed.com/wisconsin.
Upon completing the Wisconsin Hunter's Ed course, students must attend a hunter education field day to obtain their certification. However, hunters 18 years of age or older may choose Wisconsin's test-out option instead of attending a hunter education Field Day after passing the online course. Visit hunter-ed.com to learn more about Wisconsin laws and regulations.
The Wisconsin hunter-ed.com course teaches students important safety information via award-winning hunter safety videos that are designed to be fun to watch. These industry-leading videos cover safety topics such as safe zones-of-fire, firearm safety rules, hunting from tree stands, effectiveness of blaze orange and more. For more information or to take the online portion of the course, visit http://www.hunter-ed.com/wisconsin.
Hunter-ed.com's online education course is designed to be taken on any device. The course pages will automatically resize to fit any smartphone, tablet, e-reader, laptop or other computer. This way, students won't have to fumble around with their device to get the course to work properly; it simply works.
Don't wait until the last minute to take your course, sign up today.
About Kalkomey
Kalkomey, which produces hunter-ed.com, is North America's leading outdoor recreation education provider. An American company based in Dallas, Texas, Kalkomey produces print and Internet courses that have provided official safety certification since 1995. Kalkomey offers safety courses in boating, hunting, bowhunting, and off-road vehicle and snowmobile operation. For more information, visit kalkomey.com.