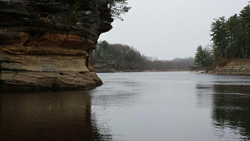 Wisconsin Dells, WI (PRWEB) February 10, 2015
An enormously desirable slice of development property will be auctioned as part of Micoley.com's February 28 event. Located in the popular tourist destination of Wisconsin Dells, Wisconsin (home to the famous Duck Tours and world renowned waterparks), the property is located at the corner of Vine Street and Hwy 16 and consists of 3 parcels from the Highway to the Wisconsin River. With a total of 100.96 acres of exquisite waterfront property, a section of the land contains 1,855 feet along the Wisconsin River, much of it sandy beach with a beautiful view of Wisconsin Dells' stunning rock formations.
Indeed, the Cambrian Resort and Condominium was formerly planned to be built on the land, which includes a 40.16-acre parcel with 48 condominium lots. Some of these lots have already been sold and some utilities are already in place. Originally, the development plan called for restaurants, a spa, two water parks and a convention center. The property also includes a 3.09-acre parcel situated on the corner of Highway 16 and Vine that is perfect for retail or for advertising the needs of a resort community.
The property is listed at $3,900,000 with an opening bid $1,995,000 if no offer is received before the auction on February 28.
Wisconsin Dells has become a magnet for lovers of waterparks, as it has several to offer, some outdoor and some indoor. In addition to other amusement park-type of attractions like mini-golf and go-karts, more adult attractions are also plentiful, including golf courses, horseback riding, museums, and a casino. Together Wisconsin Dells' waterparks use 16 million gallons of water, and the town's number of hotel rooms (more than 8,000) is higher than any other city in Wisconsin. There are also 19 campgrounds with close to 3,200 campsites.
The highly motivated sellers of this property have indicated that they plan to entertain early bids and offers. Buyers are most likely already researching this property, and coming to decisions about whether to make a purchase, so potential buyers are advised to act fast.
Interested parties should visit micoley.com to find more photos and details about the property, or visit in person and perform an inspection on site, which is highly recommended. (866) 371-3619 is Micoley.com's information line. Additionally, Micoley.com features a live chat service through which questions can be answered.
About Micoley.com:
Green Bay, Wisconsin-based Micoley.com is a real estate marketing firm specializing in project focused auctions of bank-owned properties throughout the United States. The Micoley.com approach to real estate marketing tailors each auction plan to the client's individual needs. The site is constantly being updated for the benefit of buyers, as large-scale auction events are held monthly, and new properties are added daily.