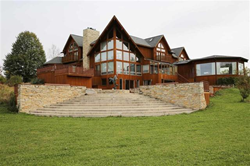 Madison, WI (PRWEB) September 03, 2014
Hay is for horses, and so is Wisconsin, which is home to two luxury properties that will be part of Micoley.com's September 27 auction event. Both properties provide horse lovers with plenty of opportunity to roam the acres upon acres of included space at their leisure.
At 3387 Timber Lane in Verona, Wisconsin (zip: 53528) is a beautiful 14,126-square foot home on a spectacular piece of land that totals nearly 26 acres. The property features a gated entry, five bedrooms, four and a half bathrooms, five fireplaces, cherry woodwork, granite floors and counter tops, two laundry rooms, and two kitchens.
The main kitchen has two sinks, a sub-zero refrigerator, Thermador double ovens, plus many built-ins. The sunroom has a diameter of sixteen feet and has views of the countryside from seven-foot high windows. At the top of the spiral staircase is a twelve feet by eighteen feet library and four of the five bedrooms. The fifth bedroom features a ladder and small loft area.
On the lower walkout level is the second full kitchen, the game room, the master bedroom and bathroom, the second laundry room, the weight room and the theatre room with twelve leather reclining seats and a seven feet by eleven feet big screen for the projection TV. The multi-level rear deck is 6,000 square feet, with indirect lighting under both the stairs and in the stone walls.
The property is listed at $1,900,000 with an opening bid of $995,000 if no offer is received by the September 27 auction date.
At N4164 Range Line Rd in Clintonville, Wisconsin (zip: 54929) is another beautiful country property featuring twenty acres, three homes, three horse barns with fenced paddocks, two pastures with shelters, and a sprinkler system throughout. Not to mention the entire property is fenced and landscaped with perennial flower gardens, a large pond and a two-stall detached garage.
The main house is a two-story Victorian with three bedrooms and two bathrooms. The second home is a 1,058-square foot cottage-style with two bedrooms and one and a half bathrooms. Home three is a unique space with 1,689 square feet, a loft bedroom and two bathrooms; this space was formerly part of the barn and silo converted to living space. (The adjacent 83 acres are also available for sale. Contact the listing agent for details.)
The property is listed at $589,000 with a minimum bid of $450,000 if no offer is received before the auction on September 27.
The highly motivated sellers of these two properties have indicated that they plan to entertain early bids and offers. Buyers are most likely already researching these properties, and coming to decisions about whether to make a purchase, so potential buyers are advised to act fast.
Interested parties should visit micoley.com to find more photos and details about the property, or by visiting in person and performing an inspection on site, which is highly recommended. (866) 371-3619 is Micoley.com's information line. Additionally, Micoley.com features a live chat service through which questions can be answered.
About Micoley.com:
Green Bay, Wisconsin-based Micoley.com is a real estate marketing firm specializing in project focused auctions of bank-owned properties throughout the United States. The Micoley.com approach to real estate marketing tailors each auction plan to the client's individual needs. The site is constantly being updated for the benefit of buyers, as large-scale auction events are held monthly, and new properties are added daily. Auctioneer Firm: Micoley.com LLC #432-53. Auctioneer: Wade T. Micoley #2647-052. Broker Firm: WM Enterprises, Inc. #835181-91. Broker: Wade T. Micoley #43427-90. Full licensing can be found on the firm's website.