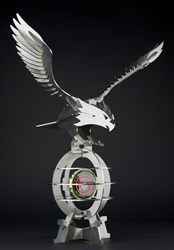 We are extremely excited to be a sponsor of this year's event. It is a huge honor to work with Wish For Our Heroes, and help so many local families especially during the Holidays. We look forward to helping with the event next year
Elkhart, IN (PRWEB) January 07, 2014
LF Steelworks, leading American manufacturer of laser cut steel awards, was proud to be a sponsor of the Wish For Our Heroes Holiday Bash to help military families in need. The holiday bash was held December 14, just in time to deliver holiday cheer to 100 Hoosier military families before Christmas.
Indiana Pacers guard, George Hill and Wish for Our Heroes joined forces once again at the 3rd Annual "HILL"acious Holiday Bash, which was held this year at the Lucas Oil Estate in Carmel, thanks to the generosity of Mr. and Mrs. Forrest Lucas.
"We are extremely excited to be a sponsor of this year's event. It is a huge honor to work with Wish For Our Heroes, and help so many local families especially during the Holidays. We look forward to helping with the event next year, says Alex Foris, CEO of LF Steelworks.
In addition to being a sponsor at the event, LF Steelworks also provided their signature product, The Flight of Honor Eagle, for the silent auction to raise additional funds for the troops. According to Foris, the Flight of Honor Eagle weighs 8 pounds, stands a full 21 inches tall, is 12 inches deep with a 17.5 inch wingspan.
Del Littrell, the product's creator, noted that the base of the Flight of Honor can be personalized with a military branch medal that is attached to the center bar in the middle of the globe that the stainless steel Eagle sits on.
"Although the product itself is a great product, it was created as a way to pay tribute and honor our military," Littrell stressed, before adding, "Our troops help protect the freedoms we enjoy. For that I thank them. It's only fitting that we all show our appreciation, especially around the holidays."
"The Eagle represents the freedom they are fighting for," Foris said. "We want our customers to take pride and comfort every time they look at their Eagle which honors their loved one or the time that they themselves served this great country."
The event was featured on Indianapolis local news channel WRTV6.
About Wish For Our Heroes
WISH for OUR HEROES is a national 501(c)(3), dedicated to assisting the men and women of the United States active-duty military. WISH for OUR HEROES launched in November of 2009, in honor of 1SG Thomas G. Wells, who was a career Marine. Military life is difficult – men and women selflessly serve our nation, while working for little pay, putting their life on the line, and dealing with the secondary affects that can tear families apart. WISH for OUR HEROES wanted to provide resources to the "average" military member, in order to make their deployments a little easier, and to improve the quality of their family lives while home or during deployment.
About LF Steelworks:
LF Steelworks was launched by two American veterans in January 2013. The LF Steelworks Flight of Honor Eagle is a unique piece of artwork created for motorcycle enthusiasts, the military market, and makes a statement as a corporate award. All LF Steelworks products are made in the USA and are customizable. LF Steelworks finds inspiration for the design and creation of the Flight of Honor from family and friends. Avid motorcyclists and veterans of the US Armed Forces, the principal partners of LF Steelworks think there is no better way to continue to pay tribute to hobbies, heroes and accomplishments than with a Flight of Honor.
To learn more about LF Steelworks, please visit http://www.lfsteelworks.com/.