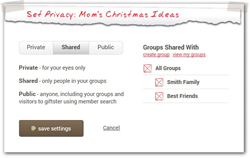 Giftster members requested the new "list permissions by group" feature and now they've got it! Ron Reimann, President
MInneapolis, MN (PRWEB) August 31, 2014
Giftster, already known for the way it uses groups to create a central place for families to share wish lists, now makes groups even better. Announcing the "list permissions by group" feature, now live for all members at giftster.com.
Previously, all lists with "shared" privacy settings were shared with all groups a member belonged to. Now, a member can choose which groups to share a list with.
For example, a member may belong to a "family" group and a "best friends" group for sharing each others wish lists. The wife might have a birthday wish list meant for her husband to see, but not her friends. Now, with the new "list permissions by group" feature, the wife can change the default of "all" groups to only one group, perhaps the "family" group, so only her husband can view the birthday wish list.
This flexibility also extends to the new giftster child accounts feature, so a member can also decide which groups can view child account lists.
The Giftster iOS App for iphone, the Giftster Android App and Giftster mobile web m.giftster.com all respect the group permissions set for lists at giftster.com.
The bottom line is that Giftster's flexiblity continues to grow, giving members simple ways to tailor giftster to work perfectly for how they want to share and view gift ideas with their family members and close friends.
About Giftster
Giftster is pioneering the idea of a year-round gift registry, a central place for families to keep updated wish lists so members can give and get gifts that matter most.
Giftster members keep updated wishlists all year round, so they just "check Giftster" when a gift giving occasion arises. Giftster is typically not a "one event service" like a wedding registry, but is primarily used for Christmas, holidays, birthdays, weddings, baby showers, graduations, and back to school college wish lists as they come up during each year.
The actual economic cost of "gift guessing" is surprisingly staggering. A 2009 study by University of Minnesota economics professor Joel Waldfogel found in the USA alone a $14 billion loss of economic value during the holidays - representing the gap between what people pay for gifts, and what the recipients value them at. Giftster helps solve this $14 billion problem by matching gifts with real wants and needs.
###
"Giftster" is a registered trademark of MyGiftster Corporation.