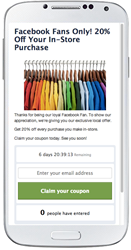 "We constantly strive to make it easier and more effective for businesses large and small to market themselves online." - Ali Tajsekandar, CEO of Wishpond
Vancouver, BC (PRWEB) December 23, 2013
Wishpond, the online marketing platform that makes it easy to generate leads and sales, announced the rollout of its much sought-after new Coupon app. This addition makes Wishpond's Social Media Marketing Suite one of the most comprehensive on the market today.
The newly integrated Coupon application gives retail businesses and marketers mobile optimized options to create their very own custom coupons on their Facebook, Twitter, websites or in their physical store. Coupons can be set up in minutes.
For example, a local business can easily create their very own custom coded coupon. Using Wishpond's templates, they can customize their offer, and create their own entry forms to collect specific, detailed participant information. By requiring an email for their offer, or a Facebook Like, the merchant can collect targeted leads to further nurture customer relationships. The coupon can be redeemed in-store, through mobile or online.
How it works:

Marketers make a coupon using Wishpond's easy-to-use creation wizard (no technical knowledge is required)
Customers participate by giving the merchant the required information (such as an email, a Facebook Like, and/or a name)
Participants will immediately receive the coupon code on their phone or email, to redeem at a local store, or online
Like all Wishpond apps, the coupon is optimized for mobile and can be hosted on Facebook, Twitter or websites, making the coupon even more shareable
Marketers can easily export all entrants' emails through the Wishpond Contact Database
"Businesses around the world are increasingly turning to social media for their marketing needs. We constantly strive to make it easier and more effective for businesses large and small to market themselves online and get new consumers," said Ali Tajsekandar, CEO of Wishpond. "With the addition of Coupon app, our customers now have access to a wider variety of landing pages and contests to gain measured results with their online marketing campaigns."
Wishpond believes in making online marketing easy, for every business and every language. The Wishpond Social Marketing Suite includes over a dozen online marketing apps from social promotions to rich contact databases, and real time analytics.
About Wishpond
Wishpond is one of the most comprehensive online marketing software platforms, with over 70,000 business customers worldwide. Wishpond's Social Marketing Suite is designed to empower businesses to attract, engage, understand and grow their customer base across mobile, social, online and local channels, and in 44 languages. Wishpond's Social Marketing Suite combines best-of-breed social promotion and sophisticated real-time analytics in one complete easy to use and deploy platform.