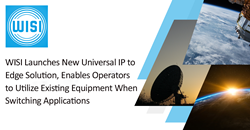 "No new hardware needs to be purchased when upgrading video services. With one software license, operators will be able to change functionality and reutilize their technology investments. This really is a ground-breaking and innovative solution for video delivery."
VANCOUVER, BC (PRWEB) June 29, 2022
WISI, a global leader in carrier-grade video technologies, has announced the immediate availability of the new GT2000 Universal IP to Edge Module for the Tangram High-Density Video Platform. Truly revolutionary to the telecommunications industry, this new module enables video operators to move away from single-use appliance technology to a flexible solution that changes functionality with easy software upgrades.
With this cutting-edge new module, video operators can gain much longer use out of their video equipment by repurposing instead of replacing when a new solution is required, cutting down on physical truck rolls and waste, while reducing capital overhead and operational costs.
"The GT2000 brings another level of flexibility to the already modular Tangram platform and provides a new way for video operators to save time and costs with WISI products," said Sharen Sandhu, VP of Product at WISI America. "No new hardware needs to be purchased when upgrading video services. With one software license, operators will be able to change functionality and reutilize their technology investments. This really is a ground-breaking and innovative solution for video delivery."
Created for operators that provide TV services to hospitality and enterprise customers, the Tangram helps video operators increase revenue and optimize bandwidth as they upgrade networks from using QAM to IP video delivery. IP video is delivered to the edge site, where the Tangram converts it to Analog or QAM, with optional decryption and re-encryption, to meet edge requirements and maintain existing infrastructure. Tangram allows operators to customize module configuration per site and perform various video processing functions within a power-efficient, 1RU chassis.
Tangram can process IP, SRT, QAM, Analog, ASI or SDI video formats. As part of a modular system, operators can pair the new GT2000 with other modules to add additional features including BISS, AES or Verimatrix bulk decryption, BISS, Pro:Idiom or Samsung LYNK encryption, demux/remux, and local content insertion.
The Tangram also supports future technologies, with the new GT2000 providing the ability to decode HEVC streams and output Analog at the edge.
The GT2000 is now available for IP to Analog applications with an additional software option for IP to QAM available in late 2022. To learn more about WISI and the Tangram Video Platform, visit http://www.wisigroup.com.
WISI Communications:
WISI employs 600 people worldwide at locations in Germany, France, Austria, Switzerland, Sweden, Spain, the United Arab Emirates, Canada and China. In addition, WISI works with more than 100 partners in all major international markets.
Nine decades ago, the high-tech company's successful path began as one of the world's pioneers in radio frequency and broadband technology. Today, new media are driving the rapidly increasing demand for broadband services. Modern broadband networks must be intelligent, powerful and scalable transport solutions. This is our business. As an innovator and technology integrator for key communications sectors, we are committed to innovation, now and in the future. For more information about WISI Communications, visit wisigroup.com