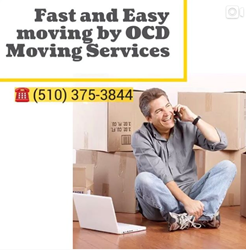 SAN FRANCISCO (PRWEB) October 21, 2019
With the busy holiday moving season fully underway, OCD Moving Services wants to remind those planning a local or long-distance move of the essential factors to consider when moving with your pet. Whether you're planning a short or a long move, moving can be a stressful time for animals. It's crucial to pay attention to warning signs of stress and anxiety in your pets, especially during the fall and winter months. For those planning a home move with their pets this holidays, the following are essential tips to keep in mind.
"These months are arguably our busiest for home moves," says Daniel England, Owner of OCD Moving Services. "However, we can't get too busy where we forget about the wellbeing of our beloved pets, especially during this moving season. We're here to help our customers with any questions we can help answer about moving with pets during their move"
If f To A New City, Register With A Vet In Advance
When you're moving to a new city, you'll likely want to focus on getting things ready to start a new job. Alternatively, if you have children, you'll be busy getting them registered in a new school, possibly finding a new daycare center or after-school activity for them to join. It's also essential to think about signing up with a new veterinarian in your new city. Moving can place much stress on a pet, and they might not adjust to a new home as quickly as your children. In case of an emergency, register in advance with a new veterinarian before you get to your new home. The safety of your pet is highly essential, especially during the holiday season. During the hotter months, fleas and ticks are more common, so don't wait to find a new vet for your pet.
Determine Your Transportation Plans With Your Pet In Advance
If you have a long journey to your new home, you'll want to plan your pet's journey accordingly. Since moving during this season will make for a more naturally hot vehicle, make sure to bring plenty of food and water on your trip. Also, make sure you're taking frequent breaks to allow your pet to get some fresh air, stretch its legs, and have some water or use the bathroom. If you're flying, that will take more preparation with your pet as you'll need to verify the airlines' policy for flying with animals. Make sure to notify your airline in advance to let them know you'll be traveling with a pet.
Make Sure Your Pet Is Traveling With Proper Identification
Like you'll need your driver's license for driving to your new home, your pet should also have a form of identification on them. Consider investing the time to chip and register your pet, or update your pet's registration. Also, make sure your pet wears a collar and tag with your current phone number at all times. Since you'll be making frequent stops along the way to your new home, you run the risk of your pet running off if it gets scared. Make sure you have a leash on your pet when you have them out of the car, and proper identification on them at all times.
Most Importantly, Make Sure Consistent Airflow Reaches The Back Of Your Car
If your pet will be in a crate or restrained in the back of the car, make sure enough air is getting back to them. It can become hot in the back of a car, even with the air conditioning is on. If your pet isn't getting enough air, it could overheat.
Lastly, if you're planning a long-distance move, make sure to check with your pet's vet before taking them on the long trip. If there's any medication or other necessities your pet needs, make sure those are readily available in the car as well.
About OCD Moving Services
With more than five years of experience, OCD Moving Services has been providing top-rated professional moving services to customers in the Bay Area. The experienced team at OCD Moving Services specializes in local and long-distance moves. OCD Moving Services also offers professional packing services, in-house movers, junk removal services, and help moving large items such as pianos and other heavy furniture. OCD Moving Services offers free in-home estimates to new clients. For a free estimate, call OCD Moving Services at 510*375*3844, or visit http://www.ocdmovingservices.net.