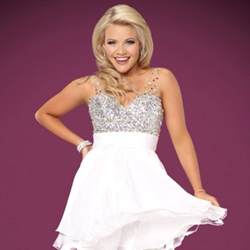 Witney has been involved with Hapari since our founding in 2005, and we couldn't be more proud to see her succeed!
Scottsdale, AZ (PRWEB) December 04, 2014
Former Hapari model Witney Carson and partner Alfonso Ribeiro were announced last week as the winners of ABC's popular "Dancing with the Stars" reality program.
"While most Dancing with the Stars fans cheer for their favorite celebrity to win, we have been cheering for our favorite professional dancer, Witney," said Tasha Curry, who leads Hapari's design and marketing. "Witney has been involved with Hapari since our founding in 2005, and we couldn't be more proud to see her succeed!"
This was Witney's second season as a professional dancer on the show after performing with the pro troupe team for two seasons. She becomes the fifth pro dancer to win the coveted Mirrorball Trophy in her second season.
Witney began studying dance at age 3, learning various styles including ballet, jazz, contemporary, hip hop, tap, latin and ballroom. She began modeling girls' wear for Hapari at age 11 and later modeled women's swimwear. Prior to earning a spot on Dancing with the Stars, Witney performed on FOX's So You Think You Can Dance? reality show.
"It has been so much fun to watch Witney and Alfonso perform on Dancing with the Stars this season," said Curry. "They dance beautifully together, and after persevering through multiple injuries throughout this season, they brought home the big trophy!"
Witney and Alfonso were fan favorites throughout the season and earned perfect scores from all four judges on five separate occasions. Perhaps their most notable dance was when the couple performed their jazz dance in week 4, which featured "The Carlton" dance from Fresh Prince of Bel Air.
Carson and Ribeiro will continue performing together on the Dancing with the Stars: Live! tour, which begins December 27.
About Hapari International, LLC : Hapari Swimwear with offices in Phoenix, Ariz., is in its ninth year of business selling swimwear for the everyday woman. Hapari is an international designer and branded manufacturer of swimwear and provides distinctly beautiful tankinis, bikinis, one-pieces and rash guards to enhance a woman's natural beauty. In addition to its online store, Hapari has retail locations in Kaysville and Ameri-can Fork, Utah.