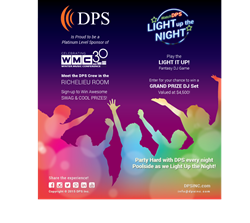 We are proud to support Winter Music Conference 2015 as a Platinum Partner for this highly anticipated event. Join us as we host a week-long celebration of pool parties, music and special events, says Patrick Whalen, President, DPS Inc.
Burbank, CA (PRWEB) March 16, 2015
DPS, Inc., the music, film and TV industry's premier lighting and production services company announces their sponsorship of the 30th annual Winter Music Conference Miami, FL.
DPS, Inc. will be providing all lighting for Winter Music Conference's official pool parties at the Deauville Hotel as well as serving as the parties' title sponsor. As a bonus for budding lighting designers, on March 15th, DPS, Inc. will launch the Light it Up Fantasy DJ game, where aspiring DJs and lighting designers can design their own light show to electronic music. The designs will be judged by DPS' in house design team and the winner will receive a DJ rig featuring Technics and Pioneer products worth $4500. Designers will be judged on creativity, use of color, synchronization and overall showmanship, and will have the ability to share and promote the videos of their designs on their social media platforms by tagging @dpsinc, #dpswmc, #lightitup and #WMC2015. Participants can create their light show remotely on their own computer system or in person at the DPS booth on March 24th and 25th. Entries must be received by noon, Wednesday March 25th 2015 with the winner chosen at the DPS, Inc. booth at the Deauville Beach Resort Hotel at 3pm that same day. Must be present to win. For complete official rules and contest registration go to http://www.dpswmc2015.com.
"DPS Inc. is proud to support Winter Music Conference 2015 as a Platinum Partner for this highly anticipated event. We are excited to be a premier host of a week-long celebration of pool parties, music, night clubs and special events," says Patrick Whalen, President, DPS Inc. "We invite all attendees to drop by the DPS Inc. booth for free WMC swag and to compete in our Light It Up Fantasy DJ Game."
WMC celebrates 30 years as the essential platform for the advancement of the dance music industry, March 24 – 28, 2015 in Miami Beach. WMC's 2015 program will celebrate three decades of dance music & EDM's most innovative artists and professionals converging on Miami Beach. "The excitement leading up to WMC this March is phenomenal. The buzz is about 30 years of club culture, which has now transcended generations; something this memorable becomes a celebration you just have to attend" says WMC Co-Founder Bill Kelly.
The WMC 2015 will be hosted at the iconic Deauville Beach Resort on Miami Beach and will feature a concentrated schedule of performance sets, conference workshops and panels addressing all aspects of the music industry with exhibits featuring the newest technology and sounds, industry receptions and more. This anniversary will be an all-time epic gathering of DJs, artists, music labels, producers, promoters, techies and club goers.
Founded in 2001, DPS Inc. is a leading entertainment production services company providing clients with personalized customer engagement and turn-key solutions for the highest quality lighting, sound, video, and staging equipment. DPS Inc. provides state-of-the-art event production solutions for Concert Touring and Festivals, Corporate Theatre, Motion Pictures & Television, and House of Worship. DPS also specializes in commercial integration, providing consulting, design and engineering of audio/video, lighting control, automation, networking, digital signage, and other low voltage systems. Clients include worldwide touring artists (Guns n' Roses, The Glitch Mob, Steve Aioki, Kaskade, Judas Priest, Dixie Chicks Imagine Dragons, and Marilyn Manson), numerous single and multi-day festivals (Winter Music Conference, Sunset Strip Music Festival, and 3DM Festival) and major brands (Audi, Volkswagon, Guggenheim, Nike, Verizon, MTV, State Farm, and Samsung). DPS' extensive, top of the line inventory is comprised of the latest innovation and equipment necessary to execute diverse projects across the board.
For more information please visit http://www.dpsinc.com
About Winter Music Conference
Founded in 1985 the Winter Music Conference is a weeklong electronic dance music conference aimed at providing industry professionals including: artists, DJs, producers, promoters, label representatives (A&R), and the media with a platform to advance the dance music industry. Numerous underground and indie artists have used its resources as a platform to springboard their careers while several entrepreneurs and consumer electronic companies have used it as a medium to present their businesses and technological developments.
For more information on the Winter Music Conference, please visit the event's official webpage at: WinterMusicConference.com