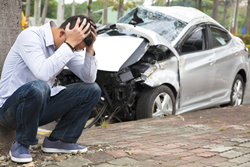 "Sun glare is a safety issue that is just too glaring to be ignored," says Armenio R., the product developer. "One death is too much. A hundred is a disaster. That is exactly what I thought when I developed the Adjustable Sun Visor."
New York, New York (PRWEB) February 06, 2015
World Patent Marketing, the world's fastest growing patent, idea protection and inventor services organization, announces the development of the Adjustable Sun Visor, an improved sun visor for vehicles that could potentially save millions of lives and improve on the three year decline in fatal car accidents.
"Sun glare is a safety issue that is just too glaring to be ignored," says Armenio R., the product developer. "One death is too much. A hundred is a disaster. That is exactly what I thought when I developed the Adjustable Sun Visor."
Conventional sun visors usually rotate in two directions. It may be swung downward so it can cover the upper portion of the windshield, or sideways so it can shield the side window next to it. It can protect the driver's eyes from the sun's glare coming from either the windshield or the side window.
However, a problem can occur when one drives during sunrise or sunset. These are times when the sun's rays usually shine below the visor. The currently existing sun visors do not extend low enough to protect the driver's eyes from the glare.
The Adjustable Sun Visor solves this problem. It can be lowered far enough to shield a person's eyes during sunrise or sunset. The visor may include a locking mechanism so that it does not accidentally move away from the window. There are two versions of the product. In one version, the visor can be manually adjusted through its telescoping tubes. In another version, the adjustable rod has a hydraulic or pneumatic mechanism that allows it to be controlled using an electronic switch.
According to New Jersey's oldest weekly newspaper, New Jersey Today, "Older drivers are more likely to get involved in crashes if glare obstructs their vision," according to a study conducted by the National Center for Statistics and Analysis at the National Highway Traffic Safety Administration. The study shows that 38.5 percent of drivers involved in crashes related to glare exposure were of "age 45 years and older." Compounding matters, "drivers middle-aged and older are more sensitive to glare than younger drivers because their eyes take longer to adjust to changing light levels," advises the AAA Foundation for Highway Safety. For example, "a 55-year-old takes eight times longer to recover from glare than a 16-year-old."
The National Weather Service reports that hundreds of car accidents due to sun glare have occurred in the last several years, many of which are fatal. Drivers who take east to west roads during sunset face the highest risk from such accidents. Those who drive while the sun rises are also in harm's way. However, this issue does not affect only those who are behind the wheel or inside vehicles. Pedestrians, especially children, are also vulnerable.
Armenio R. beams with pride as he talks about the Adjustable Sun Visor, "I believe I have set a new standard in driving safety by creating this product. I know for sure that someday, car accidents due to sun glare will be a thing of the past, and people will have my product to thank for it."
Exclusive and Non-Exclusive Licensing Rights are available to manufacturers in the United States only at this time.
Suppliers interested in the product or becoming an approved member of the New York Inventor Exchange should call 646-564-3919 or email membership(at)newyorkinventorexchange(dot)com.
About World Patent Marketing
World Patent Marketing is the world's fastest growing Patent and Inventor Services Company. World Patent Marketing specializes in offering high-quality and affordable patent services to inventors. The company and its employees are well known in the industry for knowledge and expertise in patent research, patent filings, patent searches, invention studies, utility patents, design patents, PCTs, European Union Patents, manufacturing, licensing and more. World Patent Marketing employs and contracts with over 350 people across four continents.
World Patent Marketing Achievements
World Patent Marketing is the only patent assistance company in history to be awarded a five star review rating from Consumer Affairs, Google, Trustpilot, Shopper Approved, Customer Lobby and ResellerRatings.com. World Patent Marketing has received accredited status and is an A Rated Member of the Better Business Bureau. World Patent Marketing is also a proud member of Dun and Bradstreet, the US Chamber of Commerce, the Association for Manufacturing Excellence, the International Licensing Industry Merchandisers' Association (LIMA), the South Florida Chamber of Commerce, the Greater Miami Chamber of Commerce, and the Miami Beach Chamber of Commerce.