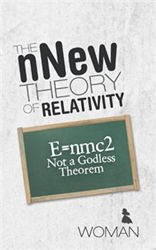 The book is sure to change the lives of Newtonian engineers to something more towards perfection of products that can lead to promotion when you realize God knows how to make our machines work the best way imaginable
MEMPHIS, Tenn. (PRWEB) May 28, 2015
Dr. Joy Snyder, writing under the pen name Woman, intends to prove that God is light through mathematics and science with the publication of her new book, "The nNew Theory of Relativity: E=nmc2 Not a Godless Theorem" (published by LifeRich Publishing).
Written for readers from all walks of life, "The nNew Theory of Relativity" dissects three verses from the Book of Genesis and outlines Snyder's theory of the mathematical equation God used to create light. She believes that when dividing light from darkness, there is no God, but he inserts himself in E=MC2 to finish the equation.
Snyder felt compelled to research this topic while going through medical school. She wanted to find a way to link science to her religious belief. The result is "The nNew Theory of Relativity."
"The book is sure to change the lives of Newtonian engineers to something more towards perfection of products that can lead to promotion when you realize God knows how to make our machines work the best way imaginable," Snyder says, "I know my book could lead you into the top secret world you choose, but only if the Bible gets applied as a blueprint. Cube wars of the future, as I call it, is an adventure that has only just begun because of new knowledge of applied Bible mechanics, how will your life change if you dare to apply the scriptures to your products."
An excerpt from "The nNew Theory of Relativity":
"The Theory of Relativity has been around for about a century or more now and has a great reputation for being on its own throne secured and not dethronable. I beg to differ. This theorem works on one level but I will prove that E=mc2 is a godless theorem not accepting a quotient for labeling God in its theorem and as such is a godless theorem ruling only in the darkness."
"The nNew Theory of Relativity"
By Woman
Softcover | 5 x 8 in | 82 pages | ISBN 9781489704122
E-Book | 82 pages | ISBN 9781489704139
Available at Amazon and Barnes & Noble
About the Author
Dr. Joy Snyder, MD, writing under the penname Woman, went through medical school and knew there was something of God in science. As a result of years of study of the Bible for healing practices and other sciences, she decided to apply basic mathematical principals to Genesis and discovered E=nmc2.
LifeRich Publishing, the strategic publishing partnership of Reader's Digest and Author Solutions, LLC, was created to provide all writers a platform for sharing their stories, recipes, advice and more. LifeRich authors will benefit from a wealth of editorial design, marketing and education resources, specially created by Reader's Digest editors for the enrichment of these LifeSmart individuals. Books can be published in print, ebook or audio formats, with additional distribution to up to 25 million Reader's Digest customers through its online properties. Follow @LifeRichPub on Twitter or "Like" us at facebook.com/LifeRichPublishing for the latest updates.