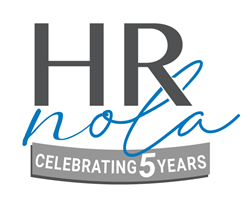 "As HR professionals we know that when employees feel supported and heard, that they are able to focus their best efforts on their job." - Amy Bakay, SHRM-SCP, CEO of HR NOLA.
NEW ORLEANS (PRWEB) May 12, 2022
HR NOLA has been named to Inc. magazine's annual Best Workplaces list. Featured in the May/June 2022 issue, hitting newsstands on May 17, 2022, and prominently featured on Inc.com, the list is the result of a comprehensive measurement of American companies that have excelled in creating exceptional workplaces and company culture, whether operating in a physical or virtual facility.
HR NOLA was started in 2017 by founder, Amy Bakay, SHRM-SCP, after a 20-year career in a diverse range of HR leadership roles. Bakay identified a necessity in the small-business market for tailored Human Resources solutions, as well as retained HR outsourced services, and founded HR NOLA to suit the needs of these businesses. Over the last five years, HR NOLA has helped many companies to select and support their employees, train their management, assure their compliance, and ultimately grow their businesses. HR NOLA takes a different approach to HR, both internally and for their clients. They are passionate about the value that HR brings to an organization, and they are always learning and exploring new solutions to better support any businesses most important asset: their employees.
After collecting data from thousands of submissions, Inc. selected 475 honorees this year. Each company that was nominated took part in an employee survey, conducted by Quantum Workplace, which included topics such as management effectiveness, perks, fostering employee growth, and overall company culture. The organization's benefits were also audited to determine overall score and ranking.
"At HR NOLA, we strive to create an environment, both in person and remotely, that supports every employee. As HR professionals we know that when employees feel supported and heard, that they are able to focus their best efforts on their job. This in turn helps our clients to get the best results from their strategic HR partnership. I've learned so much since starting HR NOLA five years ago! Without my team we wouldn't have been able to grow to support over 300 businesses nationwide." says Amy Bakay, SHRM-SCP, CEO of HR NOLA.
"Not long ago, the term 'best workplace' would have conjured up images of open-office designs with stocked snack fridges," says Inc. editor-in-chief Scott Omelianuk. "Yet given the widespread adoption of remote work, the concept of the workplace has shifted. This year, Inc. has recognized the organizations dedicated to redefining and enriching the workplace in the face of the pandemic."
About HR NOLA
HR NOLA's team is composed of SHRM certified consultants with strong backgrounds in human resources and business management. Their team not only focuses on traditional HR best practices and efficiencies, but on progressive HR by creating a respectful, positive, and productive work environment that benefits employees regardless of if they work in-person or remotely. HR NOLA is always working on preventing the non-compliance and toxicity that can cost a company millions. With offices in New Orleans, Louisiana, and San Antonio, Texas, HR NOLA is able to serve clients throughout the United States. In 2021, HR NOLA served over 5000 employees as an HR partner, and saved their clients hundreds of thousands of dollars in potential legal liabilities. To learn more about HR NOLA, see their website: https://www.hrnola.com/, which features informative blog and video posts, including "How to be a Workplace Bully", a tongue-in-cheek presentation about the big mistakes people make at work, and how to avoid them.
About Inc. Media
The world's most trusted business-media brand, Inc. offers entrepreneurs the knowledge, tools, connections, and community to build great companies. Its award-winning multiplatform content reaches more than 50 million people each month across a variety of channels including websites, newsletters, social media, podcasts, and print. Its prestigious Inc. 5000 list, produced every year since 1982, analyzes company data to recognize the fastest-growing privately held businesses in the United States. The global recognition that comes with inclusion in the 5000 gives the founders of the best businesses an opportunity to engage with an exclusive community of their peers, and the credibility that helps them drive sales and recruit talent. The associated Inc. 5000 Conference is part of a highly acclaimed portfolio of bespoke events produced by Inc. For more information, visit http://www.inc.com.
About Quantum Workplace
Quantum Workplace, based in Omaha, Nebraska, is an HR technology company that serves organizations through employee-engagement surveys, action-planning tools, exit surveys, peer-to-peer recognition, performance evaluations, goal tracking, and leadership assessment. For more information, visit QuantumWorkplace.com.
Media Contact:
Allison Schmidt, Marketing Manager, Get Online NOLA http://www.getonlinenola.com
Allison@getonlinenola.com