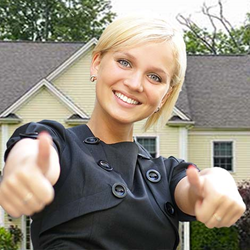 "The popularization of the solo life — in 1970, one-person households comprised just 17% of all households — is a historic change in human society." ~ sociologist Eric Klinenberg
Minneapolis, Minnesota (PRWEB) August 31, 2013
Single-family homes are purchased more often by single women real estate buyers, according to a new report released yesterday from the National Association of REALTORS® (NAR). Increasing numbers of Americans are choosing to live single and as the only one living in the home. Single real estate buyers consist of a full quarter of all home purchases last year. In the U.S., there are 33 million one-person households, and living solo is becoming an international trend. Women are showing their power in real estate buying numbers.
"We seem to find that single women are more proactive in planning for their financial future and often approach a home purchase in a smart and organized manner," says Jenna Thuening, owner of Home Destination. "When they enlist a Realtor, women real estate buyers often already know what they want and how to go about trying to accomplish it."
According to Realtor.org, Eric Klinenberg, a sociologist and author of "Going Solo: The Extraordinary Rise and Surprising Appeal of Living Alone," says that young adults ages 18 to 34 are the fastest-growing group of people living alone. One-person households are also mostly women: 18 million women live alone versus 14 million men. The majority of solo single-family households are in cities and metro areas.
The biggest hurdle for most home buyers is qualifying for a mortgage. The reality for some married home mortgage applicants is that they are dragged down by a partner's credit score, loans or credit card debt. One applicant can get stuck with a higher interest rate due to the others low credit score. "When a consumer co-signs on a credit application for a friend or family member that debt becomes the consumers debt and is counted towards the overall debt ratio of the borrower. We need to collect 12 months of cancelled checks from the paying debtor to prove that the co-signer is not responsible for making the monthly payments if we need to remove the payment from the ratio calculation," says Craig Tashjian, vice president at Fairway Independent Mortgage in Needham, Mass. He may be offering a viable glimpse into why single women home buyers may be able to miss entanglements that slow a home purchase timeline.
A recent July study conducted by Redfin on what single women want when house hunting, reveals that single females have long been big consumers of real estate. Among unmarried home owners, single women have outnumbered men since at least 1982, when the Census began collecting such data. While middle-aged women home buyers are increasing their purchasing power, women younger than 35 appear to be choosing to delay home ownership until later on in life, the report shows.
The Redfin report revealed the top U.S. cities for single successful women who have sufficient earnings to buy a home. The report factors in the percentage of women with four-year college degrees, percentage of women with a salary greater than $65,000, and the percentage of women who are single between 25 to 39 years old. Below are the rankings, as well as the percentage of residents who are women who are single and 25 to 39 years old:
1. Arlington, Va.: 24%
2. Alexandria, Va.: 22%
3. Cambridge, Mass.: 22%
4. Washington, D.C.: 22%
5. San Francisco: 21%
6. Seattle: 18%
"It may be that the average single women finds it more interesting than single men to fully understanding the process of buying a home. More often they reach out for our guidance and thereby gain a good advocate to assist their home purchase," adds Thuening.
Home Destination, a Minneapolis Residential Property Expert and professional Realtor with RE/MAX Results, helps Twin Cities real estate buyers make well-informed buying decisions. Call 612-396-7832 to engage Jenna Thuening's professional guidance tailored to meet your needs.