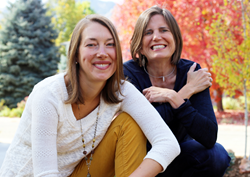 Data overwhelmingly shows that venture-backed, women-run startups produce higher returns -- MergeLane CEO Sue Heilbronner
Boulder, CO (PRWEB) October 21, 2014
Serial entrepreneurs and angel investors, Sue Heilbronner and Elizabeth Kraus, have started something new, an accelerator with a focus on women-run startups. MergeLane will discover, accelerate and invest in exceptional women and the companies they run. MergeLane aims to bring more women into the startup community and achieve investor returns through the acceleration of high-growth, gender-diverse companies.
"Data overwhelmingly shows that venture-backed, woman-run startups produce higher returns," stated co-founder and CEO Sue Heilbronner. "MergeLane is set up to be on par with the leading accelerators in the world."
According to Illuminate Ventures, organizations with women in top management achieve 34% higher returns, proving that diverse companies are stronger. Although the performance data is extremely positive, only 7% of VC-backed startups are run by female CEOs according to MIT research. MergeLane is committed to providing early-stage, female-run companies with more opportunity to reap the benefits of key resources in the startup ecosystem.
The 12-week accelerator is designed to meet the needs of women-run startups across any industry. For their first program beginning in February 2015, MergeLane will accept eight companies. MergeLane offers a guaranteed investment of $20,000 per participating company with up to $100,000 of discretionary investment upon completion of the program.
"MergeLane has recruited a powerful network of mentors and investors with a track record of catalyzing real and meaningful change," said Elizabeth Kraus, co-founder and Chief Strategy Office of MergeLane. "Not only does MergeLane promote change, but it plans profitable futures."
Unique aspects of the program include:

A reduced residency requirement (two weeks in the beginning and one week at the end of the 12-week program) that enables later-stage companies and entrepreneurs with family commitments to participate
Virtual mentoring and mentor connections in the companies' place of residence to ensure connection throughout the program
A curriculum targeting both the most critical early-stage business issues and topics specifically affecting women leaders
One-to-one CEO coaching to help MergeLane leaders activate their highest potential during and after the program
Connections to high-value, gender- and industry-diverse mentors and investors
Meaningful connections to relevant investors throughout the entire program
A laser focus on accelerating businesses and leaders, and building great companies
MergeLane is currently accepting applications from women-run startups. The application deadline is December 1, 2014. Applicants must have a business with some evidence of traction and a proven or implied ability to scale. Companies that meet the MergeLane criteria and would like to apply, are encouraged to visit the MergeLane Accellerator.