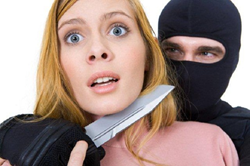 All women need to make sure they practice safe actions especially when traveling or living alone.
New York, New York (PRWEB) October 15, 2013
Each year, about 1.9 million women are subject to some form of physical assault, making it imperative that women have the tools and knowledge to protect themselves against threats of all kinds. Whether it's in public, or at home, there are steps women can take to safeguard against potential threats. The safety and security professionals at AlarmSystemReport.com created a list of safety tips for women. AlarmSystemReport.com is an independent site that provides alarm system reviews of the best home alarm system companies throughout the country.
1. Women should always be aware of what's happening around them. Whether a woman is walking to work, walking through a parking lot, or just exercising in her neighborhood, awareness is the best defense against personal safety threats.
2. Always make eye contact. Women can tend to be intimidated by unfamiliar people, and instead of making eye contact, will look down. One of the ways to scare off a potential attacker is to give them reason to believe they could be identified, by maintaining eye contact.
3. Consider carrying a personal alarm, which is essentially a wireless alarm system that is small enough to be carried in a purse, or in the palm of a woman's hand. A personal alarm can often be activated with the touch of one button, and can be used to draw attention to a dangerous situation, or scare off an attacker.
4. Never open the door for strangers, regardless of whether they claim to be a service person, police officer or any other professional. Women should always verify identity, and not be afraid to appear rude by refusing to open the door.
5. Women should be aware of what they're putting on social media. Many predators use social media to gain insight into the lives of potential victims—including where they'll be and when, when they'll be home alone, and what routines they might have. Never put this type of information on any social media account.
6. Choose the elevator over the stairs. While women are often told time and time again that it's healthier to "take the stairs," in actuality, many predators hide in stairwells, and it's safer for women to choose the elevator. If a woman is in an elevator and she feels uncomfortable with someone who gets on, she should immediately leave.
7. Women should frequently change their routines. This could be outdoor exercise routines, work parking places, or even something like grabbing food at lunch. Routines and patterns make it easier for predators to target women.
About AlarmSystemReport.com
AlarmSystemReport.com is an independent information provider about home alarms and security systems. The site provides in-depth, secret shopper reviews of top home alarm companies, as well as valuable pricing information for top companies, including Protect America discount codes and coupons.