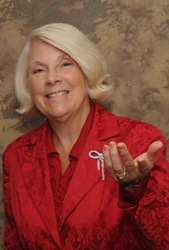 Empower the engine of your prosperity.
Daytona Beach, FL (PRWEB) August 27, 2014
NAWBO sponsors the national conference on October 7-9, 2014, at the JW Marriott in Indianapolis, Indiana. The agenda is packed with 38 speakers. Another empowering resource is Dr. Betsy Kruger's upcoming book, "Aesop's Keys to Profitable Marketing."
There are five keynote presentations. Katherine Kallinis Berman and Sophie Kallinis LaMontagne, co-founded the Georgetown Cupcake. The sisters opened bakeries in five locations and star on the hit series, DC Cupcakes on TLC.
Bruce Burtch gives a keynote presentation about cross-sector partnerships and cause marketing. Another keynoter, Dr. Susan Duffy, founded the "Women's Entrepreneurial Leadership Initiative," an entrepreneurship program at George Washington University. JJ Ramberg hosts "Your Business" on MSNBC. The final keynote presenter, Susan Solovic co-founded the first video news site for small businesses, "Small Business Television."
Another empowering resource is Dr. Betsy Kruger's upcoming book, "Aesop's Keys to Profitable Marketing." Kruger advises, "Empower the engine of your prosperity."
"Aesop's Keys" shows women entrepreneurs 12 ways to profit by delighting key customers. Some are to focus on quality, compete on strength, target key prospects, and reward the best. Each chapter updates a tale by Aesop, relates his wisdom to marketing, and coaches women entrepreneurs to adapt each key to their situation.
A universal law, the 80/20 rule, predicts their results. "During my years of selling and servicing insurance, the results were exactly as predicted in her book," reports Robert Iocco, CPA, CIC, CEO, Trustpoint Insurance, Bristol, Virginia.
A reviewer recommends "Aesop's Keys." "Entrepreneurs seeking profitable results through new, applied directions will find Aesop's Keys to Profitable Marketing provides an easy formula of success for virtually any business endeavor," evaluates D. Donovan, revised text, e-reviewer, Midwest Book Review, Oregon, Wisconsin.
"Aesop's Keys to Profitable Marketing" will be released on October 25, 2014. Her other published book, "Top Market Strategy: Applying the 80/20 Rule," enriches graduate marketing courses around the world.
Dr. Kruger has provided marketing research to many corporations, commercialized her software worldwide, and coached more than 2000 start-ups to succeed. She owns Strategic Power, a marketing consultancy that is rated A+ by the Better Business Bureau and certified by WBE and WOBE.
Dr. Betsy Kruger writes articles, speaks to groups, and coaches businesses. Please email Betsy(at)BetsyKruger(dot)com or call Betsy at 386-235-5296 with your questions. You will learn to spark your profits.