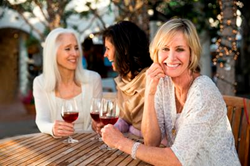 Children are the future, and we want to get behind an organization that supports them in any way we can
Grand Rapids, MI (PRWEB) March 01, 2016
The Chiropractic Doctors, in association with The Wellness Champions of Grand Rapids, are hosting an evening of education, awareness, and wine samplings in an event to remember. The Wine, Women, and Wellness event is open to anyone looking to learn more about health, wellness, and improving social relationships to help reduce stress.
The complimentary event is scheduled for Thursday, March 3, 2016, at 6:30-8:30pm at the offices of The Chiropractic Doctors. Wine, Women, and Wellness will feature wines and food catered by Russo's, and will include multiple, short wellness presentations from local experts. The four presenters for the evening will focus their conversation-starter talks around the topic of "Why women helping women is important," a topic inspired by the scientific findings of Joan Silk and her studies on how social relationships can influence a woman's ability to cope with the stresses of daily life.
The Chiropractic Doctors and The Wellness Champions will have information available at the event about the regional chapter of the Big Brothers Big Sisters organization, an organization that The Chiropractic Doctors partners with frequently. "We have been working with Big Brothers Big Sisters for the last five years," said Dr. Matt Phinney, founder of The Chiropractic Doctors Cascade location. "They are a great organization that really supports the youth of our community. Children are the future." Dr. Phinney added, "We have seen the impact their organization has on these young lives, we want to get behind them in any way we can."
In addition to opportunity for attendees to make donations to the charity, Wine, Women, and Wellness will offer discounted health packages from The Chiropractic Doctors available for purchase, with all proceeds going to support Big Brothers Big Sisters.
The event is free, but registration is encouraged. Register either by phone or online: 616-432-3103 or http://j.mp/winewomenwellness
The Chiropractic Doctors is located at 5747 28th Street SE, Grand Rapids, MI 49546