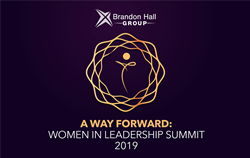 The biggest obstacle to women reaching the C-Suite is poor management of the leadership pipeline
FORT LAUDERDALE, Fla. (PRWEB) March 18, 2019
Brandon Hall Group hosts its third annual Women In Leadership Summit at the Marriott Harbor Beach Resort & Spa in Fort Lauderdale, May 1-2.
The leading human capital management research and advisory firm conducted years of women's leadership studies that identified the need to offer targeted development opportunities for women to improve capabilities, communication, understanding and sensitivity between genders and cultures.
To grow and achieve their potential personally and professionally, women need support for addressing the unique internal and external obstacles they face. Explore the challenges of creating gender equity in the leadership pipeline, and the painful truths organizations must understand to improve the position of women in leadership roles and gain the tangible benefits of top-down diversity and inclusion in your workplace.
"Our research shows that the biggest obstacle to women reaching the C-Suite is poor management of the leadership pipeline. To start with, 44% of organizations do not have a formal succession strategy in place. Another 31% have had a strategy for fewer than five years," said Rachel Cooke, Brandon Hall Group COO. "This is not just a women's issue; it is an organizational issue. And that is why we also include male executives at the Summit."
Women and men need to work together to inform more people how to understand their biases and manage them. Organizations need to train their employees to appreciate the differences between genders and the benefits of gender balance — a blending of strengths — will lead to better management and a better workplace. The time for progress is now. High-performing organizations have a significantly higher focus on fostering a culture of gender parity than other organizations.
The Summit sessions are:

Empower women. Empower growth.
Coaching and Mentoring Strategies for Women
Bridging the Gap Across Generations in the Workplace (Recruit, Develop and Retain Talented Women)
Building a Culture that Embraces Women Leaders
WIL Award Winners Celebration
The Future of Women In Leadership
What Got You Here Won't Get You There: Acquiring New Skills for the Next Level
Building a Framework and Scorecard for Capturing ROI for Women's Leadership Initiatives
How to Advance Women In Technology Leadership
What Does It Mean to be Inclusive – Global Implications for ROI
Your Resilience Tool Kit: How to Develop and Flourish in Your Corporate Environment
"When surveyed, 40% of women cited lack of role models as one of the top barriers for women leaders," said Melissa Benavides, Events and Creative Manager at Brandon Hall Group and Summit organizer. "The sessions address this pressing issue and provide opportunities for learning from other leaders and organizations that have been there and have succeeded."
Speaking organizations include Accenture, Atos, Bacardi, Bank of America, Dow Jones, GSK, Hewlett Packard Enterprises, HCL Technologies, MetLife and Restaurant Brands International, among others.
Visit http://brandonhall.com/WIL/annual-summit.html for more information.
---About Brandon Hall Group Inc.
Brandon Hall Group is an HCM research and advisory services firm that provides insights around key performance areas, including Learning and Development, Talent Management, Leadership Development, Talent Acquisition and HR/Workforce Management.
With more than 10,000 clients globally and 25 years of delivering world-class research and advisory services, Brandon Hall Group is focused on developing research that drives performance in emerging and large organizations, and provides strategic insights for executives and practitioners responsible for growth and business results.
At the core of our offerings is a Membership Program that combines research, benchmarking and unlimited access to data and analysts. The Membership Program offers insights and best practices to enable executives and practitioners to make the right decisions about people, processes, and systems, coalesced with analyst advisory services which aim to put the research into action in a way that is practical and efficient. (http://www.brandonhall.com)