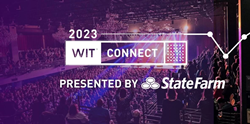 "The opportunity to become the WIT Connect 2023 Title Sponsor allows us to deepen our relationship with WIT and show our passion by collaborating with a great organization making significant impacts in our community by helping girls and women excel in STEAM careers," Victor Montgomery, State Farm
ATLANTA (PRWEB) May 22, 2023
Women in Technology (WIT), a leading organization empowering and educating women and girls in science, technology, engineering, the arts, and math (STEAM), is thrilled to announce the Title Sponsor and VIP Sponsor for its highly anticipated signature networking and fundraising event, WIT Connect.
State Farm, a renowned provider of insurance and financial services, has graciously taken on the role of Title Sponsor for WIT Connect 2023. State Farm has a longstanding commitment to making a positive impact in communities and supporting initiatives that help girls and women excel in STEAM careers. The collaboration with WIT allows State Farm to enhance its impact on the organization and contribute to its mission of empowering the next generation of female leaders in STEAM.
"At State Farm we are committed to being good neighbors who serve our customers and make our communities better. The opportunity to become the WIT Connect 2023 Title Sponsor allows us to deepen our relationship with WIT and show our passion by collaborating with a great organization that is making significant impacts in our community by helping girls and women excel in STEAM careers," said Victor Montgomery, Internal Audit Director at State Farm.
"We are excited to have State Farm as the Title Sponsor for WIT Connect 2023," said Penny Collins, President & CEO of WIT. "State Farm's dedication to our mission and their active engagement in our programs demonstrates their passion for fostering growth and ensuring that young women have the tools to thrive in STEAM fields."
In addition to State Farm, WIT Connect 2023 is also honored to have Republic National Distributing Company (RNDC) as the VIP Sponsor. RNDC, a leading wholesale beverage alcohol distributor, recognizes the importance of diversity and inclusion in the technology industry and is committed to supporting WIT's efforts in advancing women in STEAM.
"WIT is delighted to welcome RNDC as our VIP Sponsor for WIT Connect 2023," added Penny Collins. "Their commitment to diversity and their investment in women's success in STEAM make them an ideal partner for this event."
WIT Connect is a premier fundraising and networking event that brings together Atlanta's top executives, raising funds to support the development of young girls and the advancement of women in STEAM. Over the years, WIT Connect has gathered industry leaders and raised over $7.7 million to further WIT's programs, including WIT Girls, Campus, Young Professionals, and Single Mothers Programs.
The event offers unique executive auction experiences where participants can compete for exclusive time with esteemed C-Suite executives from Atlanta. Proceeds from the auction directly contribute to WIT's programs, ensuring that more women have access to the resources and opportunities they need to succeed in STEAM fields.
WIT Connect 2023 will also include a vibrant atmosphere with live music, a silent auction, an exclusive VIP networking reception, and a celebration of the organization's scholarship recipients. The event promises to be an unforgettable evening in celebration of this year's scholarship recipients and to support women in STEAM.
For more information about WIT Connect and to stay updated on the event, please visit https://mywit.org/events/wit-connect/.
Limited sponsorship opportunities for WIT Connect 2023 are available, providing sponsors with access to a community of esteemed technology leaders and the opportunity to support the next generation of female leaders in STEAM. Interested parties can contact our SVP of Corporate Partnerships, Kyle Ross, at kross@mywit.org.
About State Farm®
For 100 years, the mission of State Farm has been and continues to be to help people manage the risks of everyday life, recover from the unexpected, and realize their dreams. State Farm and its affiliates are the largest providers of auto and home insurance in the United States. It's more than 19,400 agents and approximately 53,400 employees serve over 87 million policies and accounts – which includes auto, fire, life, health, commercial policies and financial services accounts. Commercial auto insurance, along with coverage for renters, business owners, boats and motorcycles, is available. State Farm Mutual Automobile Insurance Company is the parent of the State Farm family of companies. State Farm is ranked No. 39 on the 2021 Fortune 500 list of largest companies. For more information, please visit http://www.statefarm.com.
About RNDC
Republic National Distributing Company (RNDC) is a family-owned business with roots extending before Prohibition that has evolved into one of the nation's largest wine and spirits wholesalers. Our success is grounded in our core values of Family, Service, Accountability, Honesty, and Professionalism. We offer an inclusive culture and workplace experience for individuals who want a career that makes them feel accomplished and engaged. RNDC values the health and well-being of our associates, inside and outside the office, offering health and wellness benefits that supply care and value. RNDC is geared toward growing our footprint and our people. Join our team of energetic professionals who believe in many happy hours and are
experts in our craft.
About Women In Technology
Women In Technology (WIT) empowers and educates women and girls about opportunities in science, technology, engineering, the arts, and math (STEAM) by educating middle and high school girls, and young women in college, and by sharing the stories of successful professional women in STEAM. Our team of more than 300 volunteers delivers professional development and networking opportunities to our more than 3,000 professionals, and programs at no cost to more than 1,500 students. From the classroom to the boardroom, WIT is committed to bringing the best STEAM content and programming to women and girls in Georgia.