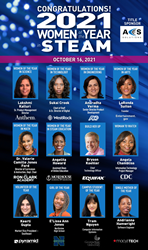 ATLANTA (PRWEB) October 18, 2021
Women in Technology (WIT) announced the winners of its' 2021 Women of the Year Awards in STEAM at their Gala held at the Mercedes-Benz Stadium in Atlanta, Georgia on Saturday, October 16th.
WIT Awards celebrates women in STEAM who live in the state of Georgia for their accomplishments as leaders in business, visionaries, and women who make a difference in their communities. Additionally, a special high school girl is recognized as the Girl of The Year, a college woman with our Campus Student of the Year Award, and a single mom with our Single Mother of The Year Award.
One winner from each of the following categories was selected and announced at this event:
Woman of the Year in Science Winner:
Lakshmi Kalluri
Senior Product Management Director, Anthem, Inc.
Woman of the Year in Technology Winner:
Sukai Crook
Chief of Staff & Senior Director of Digital, WestRock
Woman of the Year in Engineering Winner:
Anuradha Verma
Senior Director Product Development, ADP
Woman of the Year Arts Winner:
LaRonda Sutton
Founder, Entertainment.gov
Woman of the Year Mathematics Winner:
Dr. Valerie Camille Jones Ford
Director of Curriculum and Instruction, Dep. Chair, The Ron Clark Academy
Woman of the Year STEAM Education Winner:
Angelita Howard
Assistant Dean of Online Education and Expanded Programs, Morehouse School of Medicine
Woman to Watch Winner:
Angela Chambliss
Information Technology Project Manager, Center for Disease Control and Prevention
Build Her Up Winner:
Bryson Koehler
Chief Technology Officer, Equifax
Single Mother of the Year Winner:
Andrianna Hamwright
Software Engineer, Macy's Technology
Girl of the Year Winner:
E'LissaAnn Jones
Northview High School
Campus Student of the Year Winner:
Tram Nguyen
Georgia State University
WIT Volunteer of the Year Winner:
Keerti Gupta
Market Vice President, Pyramid Consulting
WIT announced a new scholarship this year for the Single Mother of the Year, sponsored by RNDC and Verizon Wireless. Andrianna Hamwright will receive a $10,000 scholarship.
The Girl of the Year, E'LissaAnn Jones, will be receiving a $5,000 scholarship sponsored by State Farm.
The Campus Student of the Year, Tram Nguyen, will be receiving a $5,000 scholarship sponsored by Pyramid Consulting.
About Women In Technology (WIT)
Women in Technology (WIT) empowers and educates women and girls about opportunities in science, technology, engineering, arts, and math (STEAM) from the classroom to the boardroom. We do this by providing our community with education, exposure and experience. By sharing the stories of successful professionals across the STEAM fields, we encourage all generations of girls and women to write their future.
Today, WIT has over 18,000 members in Georgia, 48,000 members worldwide and our team of more than 250 volunteers deliver professional development and networking opportunities to each of our professionals and programs at no charge to more than 3,000 students. WIT is a 501(c)(3) non-profit organization, and we are committed to making Georgia the state with the highest percentage of women in the STEAM workforce by partnering with our community to provide opportunities that champion women throughout their education and career.