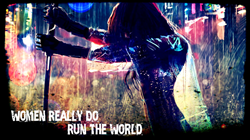 In order to become a full-fledged member, the woman must prove their commitment by killing the man they love the most in this world.
TAMPA, Fla. (PRWEB) February 19, 2019
The last few years have seen rallying calls for diversity, equality, and progression. But no one's talking about love anymore. Rock Kitaro aims to change all of that in his body of written works titled, "The Perennial War of Paramours," available for free reading at StageintheSky.com
In "Women Really do Run the World," Marcus Angel is a journalist who's been in love with Anna Marie for the better part of his adult life. His ambition, his progress, his need to succeed in life…she was his motivation for it all. Three years after Anna leaves for a job on the West Coast, Marcus finds himself caught in the middle of a homicide investigation. He uncovers the existence of an underground feminist society and just by coincidence…Anna Marie returns.
In "The Green Cocktail Dress," Elliot Chan is film student with repressed memories of his father's death. He was just a toddler when it all went down. All he remembers is the woman in the green cocktail dress. His obsession to find her leads him to discover Marcus Angel's expose about the society of deadly feminists. And it just so happens that Elliot's mother is one of the shot-callers.
And in "Gladys Vandelay, the Privileged" we have a neglected young heiress recruited to join this secret sisterhood. Gladys excels in her training, feeding off a deep internal rage to overcome all doubts. There's just one problem. That crucible. Gladys can't bring herself to murder the one person who's ever loved her for the way she was.
These stories aren't for the faint of heart. As award winning Ursula Le Guin once wrote: "Hard times are coming, when we'll be wanting the voices of writers who can see alternatives to how we live now, can see through our fear-stricken society and its obsessive technologies to other ways of being, and even imagine real grounds for hope. We'll need writers who can remember freedom, poets, visionaries, realists of a larger reality."
With authors like Rock Kitaro on the scene, I'd say the promise of great literature is on the rise. His rebellious approach is enough to create a new demographic of readers. If anyone says they don't like to read, they clearly haven't heard of Rock Kitaro.