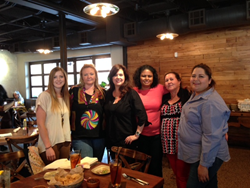 Frocket® now offers over 100,000 unique pocket and garment color combinations.
Dallas, TX (PRWEB) May 16, 2014
Alison Weinberg, 50, wife, mother of two and entrepreneur, was intrigued when her then 12 year old daughter showed her a simple, unprofessionally sewn, pocket T-shirt she had seen on the internet. Add to that that her Dad's constant complaint that he had difficulty finding good quality pocket tees.
Weinberg immediately put two and two together and imagined a custom shirt business that focused on contrasting shirt and pocket combinations. She thought that this idea had legs to be a profitable business, if done right.
The Original Frocket® was born in the summer of 2012 and has been going strong since.
Frocket® is a line of apparel featuring T-shirts, tank tops, sweatshirts, dresses and more made with custom pockets. Frocket® now offers over 100,000 unique pocket and garment color combinations. To shop their collection, click here.
Weinberg, and her all women team of Frocketeers, have grown Frocket® to over $500,000 in sales in less than two years. Frocket® is in over 200 boutiques across the country and also does well with its web based sales.
With her oldest child starting college in the fall of 2013, adding income to the family's bottom line was a welcome necessity. With her now 14-year-old daughter still at home, but the prospect of becoming an empty nester looming, Frocket® has been the perfect transition from the active volunteering mom, back to the business world.
Weinberg is a graduate of University of Texas at Austin and lives in Dallas, Texas with her husband of 23 years. Weinberg has been involved with starting Frozen Drinks Unlimited of Los Angeles and Holy Ravioli, a Dallas based fresh pasta boutique. Interestingly, while Weinberg no longer owns these businesses, both are still going strong for 24 and 18 years, respectively.