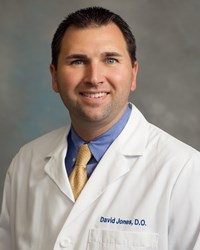 My goal is for my patients to be able to understand their own health and how to improve upon that.
Columbus, OH (PRWEB) October 31, 2013
Women's health specialist, Dr. David Jones will join Northeast Obstetricians and Gynecologists in Columbus, Ohio to provide women with Osteopathic Manipulative Treatment (OMT), which treats both pregnancy-related and general symptoms including, but not limited to back pain, rib pain, headaches and sciatica through gentle stretching and manipulation of the muscles and joints in the body.
Dr. Jones said he went into OB/GYN because he enjoys the personal and long-term relationships that he is able to build with his patients.
"I chose this specialty because you get to know your patients throughout their life," he said. "The ability to help others is incredibly rewarding, and I get to meet and form relationships with great people every day."
A Columbus native, Dr. Jones received his Bachelor's degree in Zoology from Miami University in Oxford, and then continued his research project for one year at the Ohio State University College of Medicine. In 2009, he received his medical degree from Lake Erie College of Osteopathic Medicine. He then returned home to Columbus to complete his residency in OB/GYN at Doctors Hospital and Grant Medical Center. Dr. Jones is board certified by the American Osteopathic Board of Obstetrics and Gynecology. Osteopathic physicians attend medical school and are licensed to practice medicine in all 50 states, but unique to their training is a holistic methodology.
"My goal is for my patients to be able to understand their own health and how to improve upon that," said Jones. "The body has an innate ability to heal itself and I hope to assist my patients and allow their body to do just that."
OMT is one of the most unique and distinctive tools of osteopathic medicine and can provide many patient benefits. Additionally, Dr. Jones has an interest in minimally invasive surgery, infertility, and ultrasound.
Learn more about women's health physician, Dr. David Jones.
Dr. Jones is an active member of the medical staff of OhioHealth Grant Medical Center. OhioHealth Grant Medical Center provides the latest in labor and delivery technology in a comfortable patient-friendly environment and a maternity team that devotes trusted one-on-one attention to each woman. With the da Vinci® Surgical System, our expert surgeons can provide the most advanced minimally invasive gynecologic surgery, with the benefits of less pain and faster recovery time.
About OhioHealth
OhioHealth is a nationally recognized, not-for-profit, charitable, healthcare organization with Methodist roots and based in Columbus, Ohio. Currently recognized as one of the top five large health systems in America by Truven Health Analytics, it is also recognized by FORTUNE Magazine as one of the "100 Best Companies to Work For," and has been for seven years in a row, 2007-2013.
Serving its communities since 1891, it is a family of 22,000 associates, physicians and volunteers, and a network of 17 hospitals, 25+ health and surgery centers, a hospice, home-health, medical equipment and other health services spanning a 40-county area. OhioHealth member hospitals include Riverside Methodist Hospital, Grant Medical Center, Doctors Hospital-Columbus, Grady Memorial Hospital, Dublin Methodist Hospital, Doctors Hospital-Nelsonville, Hardin Memorial Hospital and Marion General Hospital. For more information, please visit our website at http://www.ohiohealth.com.